Former Hollywood producer Harvey Weinstein was found guilty on Feb. 24 of rape in the third degree and criminal sexual act in the first degree. He was found not guilty of two counts of predatory sexual assault that would have carried a possible life sentence.
Weinstein was found guilty of criminal sexual act in the first degree for an incident involving former "Project Runway" production assistant Miriam "Mimi" Haley and rape in the third degree for the assault of hairstylist Jessica Mann.
The 67-year-old movie mogul has denied the allegations, saying the encounters were consensual.
During the trial, six women testified he had sexually assaulted them, although Weinstein only faced criminal charges in connection with two of them. The four others testified to establish that he showed a pattern of criminal behavior.
The jury of seven men and five women took five days to deliberate.
Weinstein's lawyers said they will appeal.
"Harvey is unbelievably strong. He took it like a man," defense attorney Donna Rotunno said. "He knows that we will continue to fight for him, and we know that this is not over."
Another of his lawyers, Arthur Aidala, quoted Weinstein as telling his legal team: "I'm innocent. I'm innocent. I'm innocent. How could this happen in America?"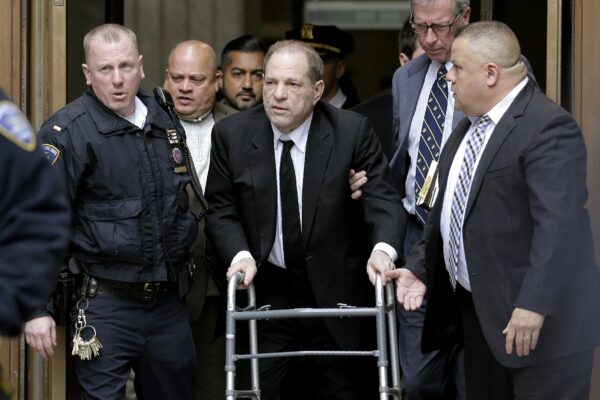 Judge James Burke ordered that Weinstein be taken to jail immediately. Court officers surrounded Weinstein, handcuffed him, and led him out of the courtroom via a side door without the use of the walker he'd relied on for much of the trial.
The judge said he will ask that Weinstein, who had been free on bail since his arrest nearly two years ago, be held in the infirmary after his lawyers said he needs medical attention following an unsuccessful back surgery.
The sexual assault charge carries up to 25 years in prison, while the third-degree rape count is punishable by up to four years. The sentencing is set for March 11.
"Here the rapist was at the pinnacle, at the very profession his victims strived to make a career in," Assistant District Attorney Meghan Hast said in her opening statement. "Thus, the power and balance he deviously exploited was not just physical, it was also professional and profoundly psychological."
While Weinstein did not testify, his lawyers said that any sexual contact was consensual and accused the women of trying to advance their careers. The defense seized on the fact that two of the women central to the case stayed in contact with Weinstein via emails and other means.
Rotunno said that prosecutors created an "alternate universe" where "women are not responsible for the parties they attend, the men they flirt with, the choices they made to further their own careers, the hotel room invitations, the plane tickets they accept, the jobs they ask for help to obtain," according to BuzzFeed.

"To the defendant, it has been said he was the master of his universe and the witnesses here were merely ants that he could step on without consequences," Manhattan Assistant DA Joan Illuzzi-Orbon said in her closing statements, the New York Post reported.
Weinstein, who has been recently photographed walking to a court in New York using a walker, faces up to 29 years in prison for the charges.
Dozens of women have accused Weinstein, including actresses Ashley Judd, Rose McGowan, and Gwyneth Paltrow, of various forms of misconduct. Last year, Weinstein reached a $44 million settlement with several of his accusers, according to reports at the time.
Weinstein's legal woes aren't yet over, as he was indicted for sexual misconduct in Los Angeles.
The Associated Press contributed to this report.