Harvard's Sobhy Wins Buler Squash Challenge Title in Hong Kong
Squash—HK Buler Squash Challenge Cup
July 10, 2013 11:23 am Last Updated: July 10, 2013 12:29 pm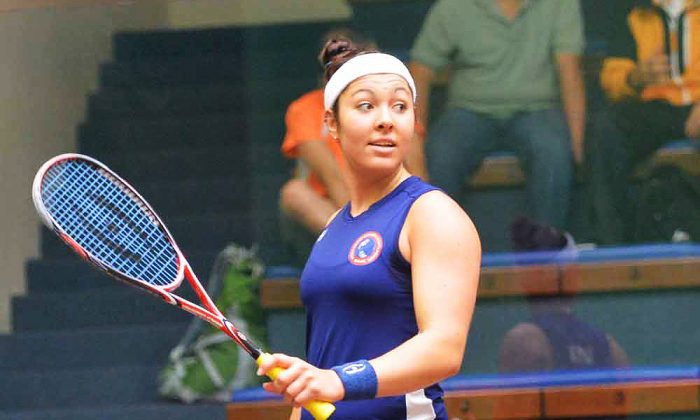 Up-and-coming American athlete Amanda Sobhy won the Buler Squash Challenge Cup in Hong Kong on Sunday July 7. She won straight-game wins through to the Final and won the title in a walk-over, following the withdrawal of Hong Kong's Annie Au.
The tournament's No.5 seed had just finished her second year at Harvard College and was recently crowned Harvard 2012-2013 female athlete of the year.
Discussing the tournament with the Epoch Times, Sobhy said she was very pleased with her first visit to Hong Kong.
"It's my first time in Hong Kong—it has been great, everybody has been super nice and the city is great. So much to do here. It's a pity I have only been here for a short time," said Sobhy.
On her way to the title she beat: Deon Saffery of Wales (ranked No.48 in the world) 11-9, 11-7, 11-9; Donna Urquhart of Australia (17), who is just recovering from an ankle operation 11-4, 11-7, 11-7; and Joshana Chinappa of India (27) in the Semi-final 11-9, 11-6, 11-5.
Sobhy discussed the quality of the matches and the venue, she also sent her best wishes to the ill Au, Hong Kong's No.1 ranked woman's player who withdrew from the Final due to illness.
"Up until the finals it has been great, the venue is great, the crowds are great, the matches have been tough—it was a strong draw. It is unfortunate and sad about Annie, and I hope she has a speedy recovery."
Illness had swept through the Hong Kong players' camp forcing several early retirements. Au, who was suffering with the hand, foot and mouth disease symptoms that many local players exhibited, was unable to continue past the Semi-finals.
Disappointed not to be tested by Au, the world's No.14, Sobhy said she was very happy with her game however, and believed she was improving with each match.
"They [the matches] have all been tough since the first round, but it's good you know? Each match I thought I was getting better and better, so I would have liked to have played today to see how I would have played, but I am happy with my performance overall," she said.
"Even the players that are not seeded are strong players and even the Hong Kong players coming up are really strong. I would not consider this an easy tournament at all," she added.
Twenty-year-old Sobhy is not full-time on the professional circuit as she is still studying and plays for the Harvard College woman's team, but participates in international events during the summer period.
Sobhy won the World Junior Squash Championship in 2010 and is the only woman player to have won three professional championships under the age of 17. She has now added to this tally a number of times. She won the US Nationals by beating Natalie Grainger in March 2012, but she lost to Grainger in the Final in March 2013.
Sobhy's world ranking is a bit variable due to her intermittent play on the professional circuit and, although she is currently ranked No.28, she was ranked No.17 in April 2011. She currently splits her time between academics, collegiate sports and the professional circuit.
Men's

Reigning men's champion, Max Lee made easy work of retaining the men's title in Buler Squash Challenge Cup on Sunday July 7.
World ranked No.34, Lee, won all his matches in straight games: beating qualifier Ammar Altamimi (ranked No.110) of Egypt in the first round 11-4, 11-6, 11-4; he then went on to demolish Rex Hedrick of Australia (62) 11-4, 11-3, 11-4 in the Quarter Final; Harinder Pal Sandu of India (70) 11-9, 11-8, 11-9 in the Semi-final; before taking the Final against Steven Finitsis of Australia (73) 12-10, 11-3, 11-7.