Lawrence Bacow, the president of Harvard University, told students and faculty that he tested positive for the CCP virus, which causes the COVID-19 disease.
The Epoch Times refers to the novel coronavirus as the CCP virus because the Chinese Communist Party's coverup and mishandling allowed the virus to spread throughout China and create a global pandemic.
Bacow said in a letter to the school community that his wife, Adele, also tested positive for the new illness.
"We started experiencing symptoms on Sunday—first coughs then fevers, chills, and muscle aches—and contacted our doctors on Monday. We were tested yesterday and just received the results a few minutes ago. We wanted to share this news with all of you as soon as possible," he wrote.
Neither Bacow nor his wife know how they contracted the virus; both patients limited contact with others starting March 14. Anyone who had contact in the past two weeks with the Bacows should contact health authorities or their doctor.
Both Bacow and his wife are self-isolating at home and focusing on getting healthy.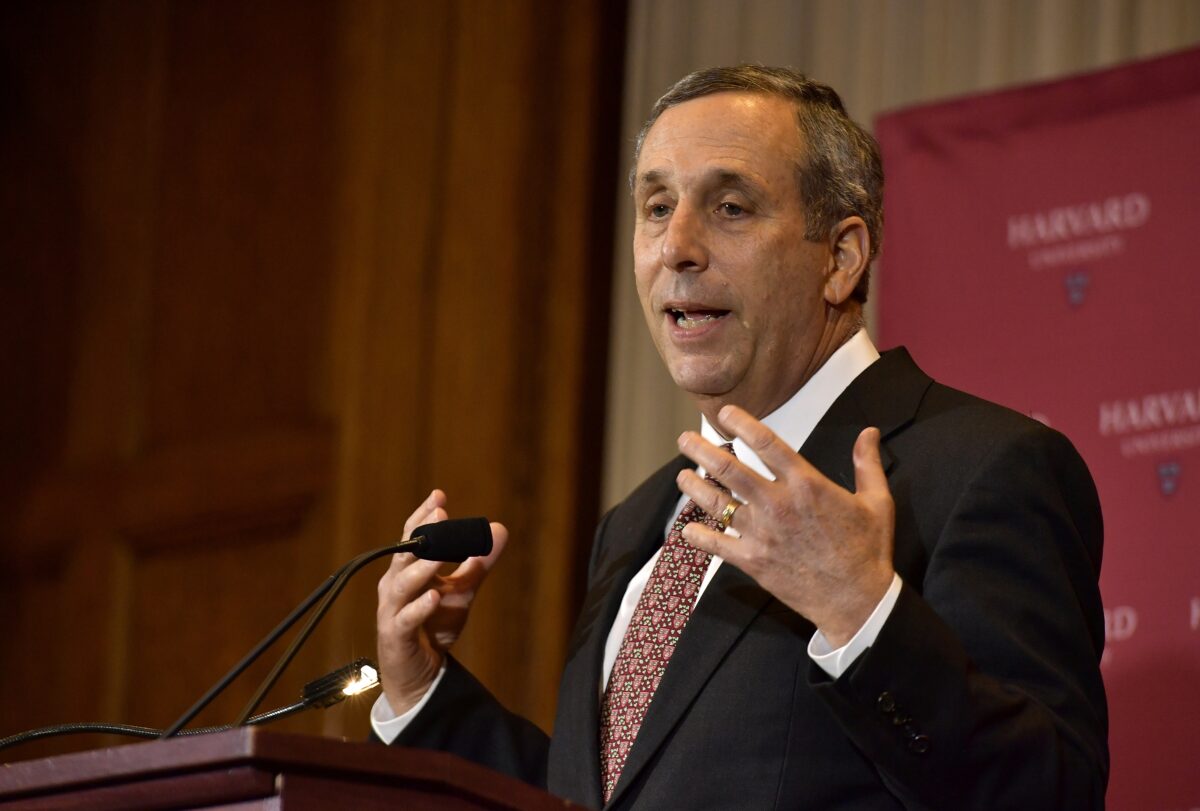 "This virus can lay anyone low. We all need to be vigilant and keep following guidelines to limit our contact with others. Your swift actions over the past few weeks—to respond to the needs of our community, to fulfill our teaching mission, and to pursue research that will save lives—have moved me deeply and made me extraordinarily grateful and proud," he wrote.
"I hope to see as few of you in our situation as possible, and I urge you to continue following the guidance of public health experts and the advice and orders of our government officials."
Bacow, 69, is the 29th president of Harvard, joining the school after serving as president of Tufts University. He and his wife met with Chinese leader Xi Jinping in Beijing on March 20, 2019. The new virus started in China in late 2019 and is still infecting people in the country.
As of March 24, Massachusetts, where Harvard is located, had 1,159 confirmed cases, including 99 from a Biogen conference and people who came into contact with attendees. Eleven persons in the state have died from COVID-19.
Cases across the United States topped 51,000 on March 24, with a mortality rate of around 1.3 percent. The bulk of the cases are in New York state, which saw a surge of more than 4,500 overnight.
The virus is believed to primarily pass from person to person through respiratory droplets released when an infected person sneezes or coughs. Touching contaminated surfaces and then touching one's face can also lead to the illness.
Experts recommend that people avoid crowds, frequently wash hands, and regularly clean objects and surfaces.