Harsh City Law Enforcers Draw Public Ire
March 27, 2013 2:40 pm Last Updated: October 1, 2015 10:44 am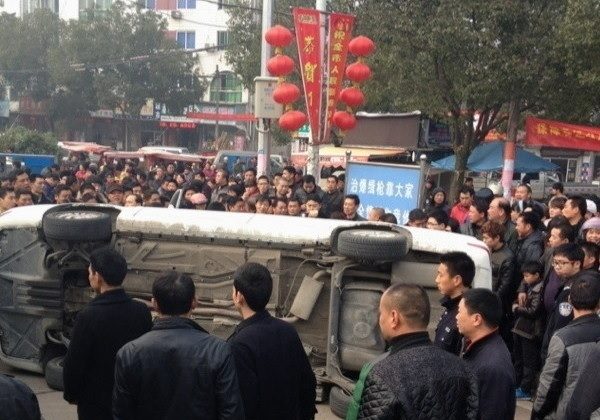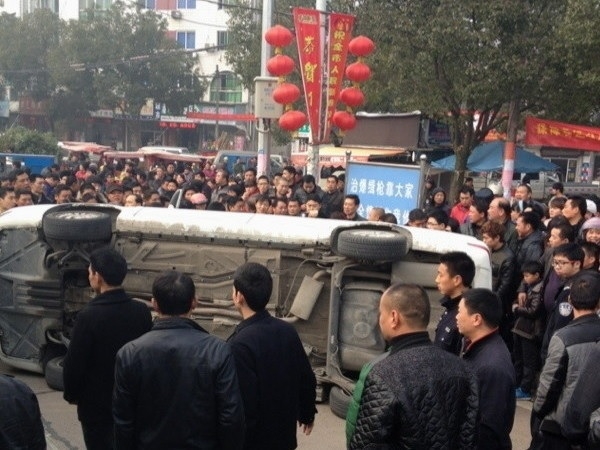 On March 22, three urban enforcement officers in Zhaotong City, Yunnan Province, confiscated a blind beggar's disability certificate, identity card, and walking stick. They then beat him and pushed him into a ditch.
Chengguan in Zhejiang Province beat a motorbike rider on Feb. 24 for an alleged traffic violation, angering more than 1,000 onlookers, some of whom tipped over a police car.
On March 19, enforcers in Nanning City, Guangxi Province, beat two students having a late night snack at an offal stand. The officers pushed them to the ground, and up to 30 men beat them with rubber batons. 
These are just some of the cases of the abuses of the "chengguan," or urban administrative officers, who are becoming an increasingly violent part of the communist regime's law enforcement network.
In light of the violent incidents the officers start, netizens have been calling for the disbandment of the group.
These security officials are supposed to tackle low-level crime, and can be found in the mainland's major cities. They answer to the City Urban Administrative and Law Enforcement Bureau, which is hated by many for its excessive use of force.
Cases of harsh enforcement by urban administrative officers have become more frequent recently, with some developing into large-scale protests as people retaliate.
Yuang Guobao, a senior reporter that lives in Beijing's Haidian District, criticized the system on his Sina microblog on March 21, saying, "The urban administrative officer is a special kind of job that only exists in China, and has become society's largest unstable factor. These officers frequently smash cars and beat up people on streets, they mob vendors and college students … They must be abolished!" 
On March 17, enforcers in Guangzhou City overturned stalls or confiscated goods from street vendors who were too slow to move on. A fruit seller had his stall violently overturned by two officers, who threatened to confiscate the goods. The stallholder attacked them with a knife, stabbing one of the men seven times. 
Also in Guangzhou City, on March 6, enforcers manhandled a female vendor with a young daughter. Before they took the mother away in a police car, she tried to hug her crying child and say goodbye, but the officers had tied her hands behind her back.
A netizen from Anhui Province said, "I do not understand why the government has to have urban enforcers? They just wander around markets everyday and threaten the vendors. The large urban administrative system across the country is also a huge burden on taxpayers."
Another commented, "Urban management should not rely on a group of so-called urban enforcers to enforce the law. They simply take up the position of public servant and harass people legally."
Translation by Quincy Yu. Research by Hsin-Yi Lin. Written in English by Cassie Ryan.
Read the original Chinese article.