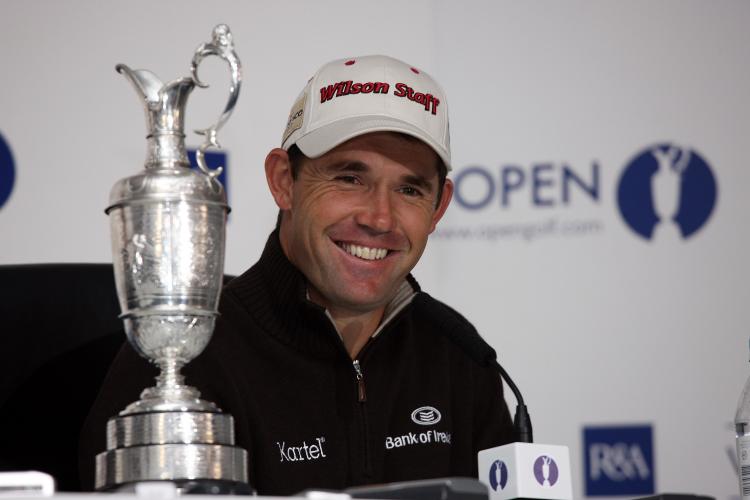 Padraig Harrington vaulted himself from no. 14 in the golf world rankings to no. 3 by retaining his British Open title at the Royal Birkdale golf club on Sunday.
In the world rankings, the recuperating Tiger Woods is number one and Phil Mickelson is second. Mickelson, by his own standards, performed poorly in The Open by finishing 19th with 13 other players at 14 over par against Harrington's 3 over par winning score. Harrington's win earned him $1,498,875 versus $75,485 for Mickelson's share of the $8,600,000 purse. Second place finisher Ian Poulter, scoring 4 strokes behind Harrington, garnered $899,325.
Harrington becomes the 16th player in history to win The British Open in consecutive years or back-to-back. He won last year's open in Carnoustie over second place finisher Sergio Garcia.
The list of players who have won back-to-back British Opens reads like the Who's Who of golf legends. And now Harrington finds himself among the elite group.
The last player to win back-to-back British Opens was Tiger Woods in 2005 and 2006. Prior to Woods it was Tom Watson in 1982-83, Lee Trevino in 1971-72, and then Arnold Palmer in 1961-62 to round off the list in recent history.
"There are some exclusive clubs in golf I am going to focus on joining. Three majors first, also a different major," he told the BBC.
A third major win, perhaps at the upcoming PGA, would put him equal in terms of majors won with Phil Mickelson, Ernie Els and Vijay Singh among active PGA players. Tiger Woods with 14 majors would be practically out of the reach of the Irishman.
In the upcoming PGA Championship, the Europeans may be well represented in the top finishing positions given their better play in the Open. Seven Europeans finished in the top 10 at the Open. But a European has never won the PGA Championship in its stroke-play format dating back to 1958.
With his victory at Birkdale, Harrington can play on the PGA Tour through 2013 and the European Tour through 2018.
And with Tiger Woods sidelined for the rest of the year due to a surgically repaired knee, opportunities abound not only for Harrington but for the rest of the tour players.
Harrington, 36, also moved to the top of the European Ryder Cup standings with his victory. The Ryder Cup will be played Sept. 19-21 at Valhalla Golf Club in Louisville, Kentucky. The U.S. has not won the Ryder Cup since 1999.
He will leave next week to the Bridgestone World Championships event in Ohio starting July 31, and then to the final major of the year, the PGA at Oakland Hills Country Club in Michigan, Aug. 7.