Harper to Attend Victims of Communism Memorial Fundraiser
May 13, 2014 10:58 am Last Updated: May 13, 2014 11:08 am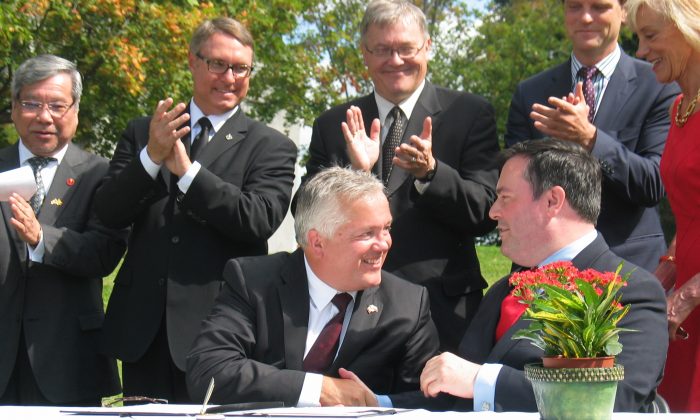 A projected $4 million is needed to complete Canada's Memorial to Victims of Communism, and an upcoming fundraising dinner to be attended by Prime Minister Stephen Harper aims to raise a good chunk of that.
Toronto-based Tribute to Liberty (TTL), the charity spearheading the project, will host the dinner, while Robert Herjavec of the TV shows "Dragon's Den" and the "Shark Tank" will MC the evening.
It costs $250 per person to attend the fundraiser, to be held at the Toronto Congress Centre on May 30, and a corporate table for 10 can be had for $5,000. 
To-date, $2.5 million has been raised through donations and government assistance for the memorial, which is to be built on Confederation Boulevard in downtown Ottawa. 
Canada has long been a refuge for those fleeing violence and oppression in communist-ruled countries, starting with Russians leaving their homeland after the 1917 Bolshevik Revolution. Currently, about 8 million people who escaped communist-led countries live in Canada. 
It is estimated that communism has left in its wake 100 million victims, living and dead, due to tyrannical and destructive policies implemented by totalitarian regimes worldwide. Chinese dictator Mao Zedong was responsible for the deaths of approximately 65 million people, surpassing the numbers killed under Naziism. 
"For too long the victims of this kind of oppression and totalitarianism have gone unrecognized, have been forgotten about. But we must learn the lessons of history if we are to avoid repeating them," Employment and Multiculturalism Minister Jason Kenney said in a video on the TTL website.
"Thank you for your support of this important work and may we never forget those whose lives were so brutally taken, and may we always celebrate liberty as a precious gift."
The monument design is being chosen by competition, with the winner to be announced in September. It is expected that the memorial will be completed toward the end of 2015.
TTL chair Ludwik Klimkowski told the Epoch Times in a previous interview that the memorial will act as a reminder of the evils of communism as well as a common ground for people from all backgrounds to heal and support each other over a shared tragedy. 
"It has to be a unifying monument, a unifying holy ground for all of us. We need to make sure that this is given a pristine location that properly represents the suffering [of victims] and the beacon of freedom that Canada has given to us," he said.
For those who can't make it to the dinner, donations can be made on the TTL website at tributetoliberty.ca. A $200 donation buys a brick in the path leading to the memorial called the Pathway to Liberty.