Harper 38th Most Followed World Leader on Twitter
Obama, Pope Francis have the most followers
July 29, 2013 4:19 pm Last Updated: July 29, 2013 7:35 pm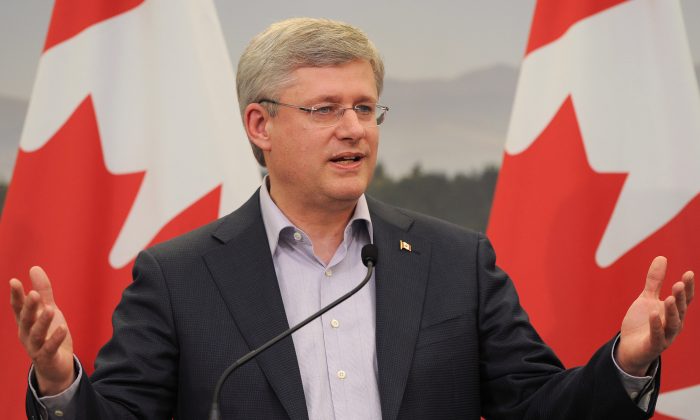 Prime Minister Stephen Harper is the 38th most followed world leader on Twitter, according to the newly released "Twiplomacy" report by PR and communications firm Burson-Marsteller. 
Amassing a far lower follower count than his American counterpart President Barack Obama—who with over 33 million followers on Twitter tops the most followed list—Harper's Twitter account @pmharper has 357,916 followers (as of Jul. 27).
Among the top five on the list are Pope Francis (over 7 million followers) in second place, White House (over 4 million followers) in third place, Turkish Prime Minister Recep Erdogan (over 3 million followers) in fourth place, and Turkish President Abdullah Gul (over 3 million followers) in fifth place.
Harper was among the first world leaders to sign up on Twitter, initially joining in 2007, making him the fourth world leader to join the popular social networking service. However, he didn't start tweeting until 2008, according to the report. 
"He often tweets, mostly in an informal way, about his vision for the country, his government actions, and important days, but he also lets followers enter his personal life," the report says about Harper's tweeting habits, while noting that his tweets are rarely written by himself personally. 
Harper's most popular tweet is a February 2011 note he wrote about the CRTC's decision to implement usage-based Internet billing, saying, "We're very concerned about CRTC's decision on usage-based billing and its impact on consumers. I've asked for a review of the decision."
The report also notes that Harper rarely engages in conversations on Twitter, as only 2 percent of his tweets are replies and 6 percent are retweets. 
Harper follows 210 users, among them only two world leaders, Russian Prime Minister Dmitry Medvedev and Ugandan Prime Minister Amama Mbabazi. 
The users retweeted most by Harper are Canadian astronaut Chris Hadfield and his wife Laureen Harper. 
A New Official Tool
According to the report, over three-quarters (77.7 percent) of world leaders have a Twitter account. 
Obama, the most followed leader, was the first world leader to join Twitter, and follows over 600,000 other Twitter users. However, similar to Harper, he only follows two other world leaders, Norwegian Prime Minister Jens Stoltenberg and Russian Prime Minister Dmitry Medvedev. 
Considering the number of retweets of his tweets, the Pope is considered the most influential user among the leaders, the report says. 
The report also says that the governments of all European nations have an official presence on Twitter. All South American countries with the exception of Suriname also have a presence. 
In North America, Asia, and Africa, participation of governments are lower at 79 percent, 76 percent, and 71 percent respectively. The presence is much lower in Oceania at 38 percent.