Harmony Village: Vibrant Senior's Community Proves Strength in Numbers
April 21, 2014 10:43 am Last Updated: April 21, 2014 10:43 am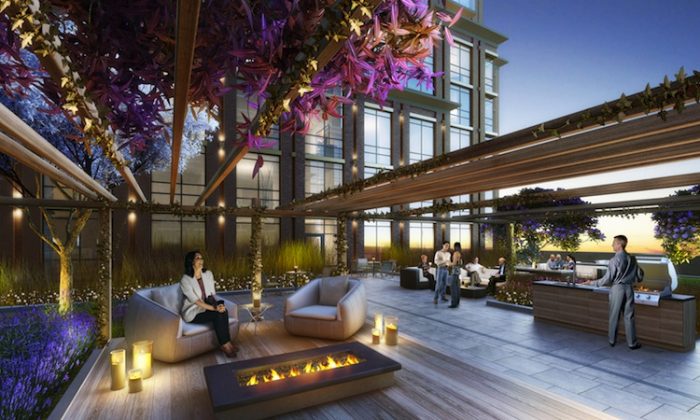 Special Feature
New research from University of Chicago professor John Cacioppo, psychologist, neuroscientist, and leading expert on loneliness, showed that extreme loneliness can increase an older person's chance of premature death by 14 percent, making loneliness nearly as impactful as socioeconomic status, and twice as deadly as obesity. 
Cacioppo's study showed the consequences of chronic loneliness are dramatic, including disrupted sleep, elevated blood pressure, and an increase in the stress hormone cortisol. It can also alter gene expression in immune cells, increase depression, and lower overall subjective well-being.
In light of these findings creating supportive and inclusive communities for our aging population has never been of greater relevance.
Harmony Village, a new seniors' community at Warden and Sheppard Ave. East in Toronto, is set to create a new paradigm for seniors' housing, focused around clustered services and increased human interaction. 
A massive 35,000 sq. ft. community centre and retail facility lies at the heart of the project, tying the community together, complete with a Sheppard LRT extension stop at the doorstep.
Located in the three-storey podium that connects the main residential condo building and the residential rental building, Harmony Village will partner with St. Paul's L'Amoreaux to provide seniors with quality programming inside a massive health- and lifestyle-focused facility.
St. Paul's L'Amoreaux currently provides Scarborough seniors with an impressive variety of over 80 seniors' programs—everything from home housekeeping and meals-on-wheels to recreational day programming in multiple languages.
All St. Paul's services are either fully or partially funded by the government, and for Harmony Village residents they will be an elevator ride away.
The retail portion of Harmony Village will include a pharmacy, medical offices, physiotherapy facilities, coffee shops, and a large restaurant. 
Areas for planned and unplanned social interaction are spread throughout the project. Outdoor gardening plots and barbeque areas for summer and a 1/4-mile walking path throughout the podium when the weather is poor allow residents many chances to remain active and stay socially engaged. 
Cooking classrooms, a wine cellar, and even a small theatre complete with stage, create many spaces for clubs and events centered around residents' shared interests.
In stark contrast to seniors living in single-family homes on suburban blocks, there will be a huge increase in social interaction inherent in this denser housing form. The simple proximity of people, activities, and services will be a huge benefit to seniors. 
"The community is the most important part of Harmony Village," said Jack Pong, developer behind CityCore and the Harmony Village concept. "It's harder to be lonely in that atmosphere."
Not only has gathering seniors together made maintaining restaurants, shops, and medical offices financially viable, costly services like 24-hour emergency response will also be made available throughout the project, being maintained because of the large number of residents.
Because the project is so large, the addition of green technology including geo-thermal heating and cooling and cogeneration of electrical power using natural gas, which produces electricity cheaply without transmission loss or reliance on Toronto's ailing grid, have allowed this project to pursue LEED Gold status. As the project matures the costs of energy will be less of a burden to residents on a fixed income.
Information: http://www.harmonyvillage.ca/sheppard/
Starting at $177,500