When he first came to Alberta from his native Nigeria in 2005 and was struggling to support his family by washing dishes, Kaycee Madu never dreamt that one day he'd be appointed to one of the most important cabinet posts in that province in his adopted country.
But the Edmontonian has come to realize since then that the system in his province is "built in a way that rewards hard work and risk-takers."
"It doesn't matter where you come from in this province. If you work hard, the sky won't even be a limit," Madu said in an interview.
The first-term United Conservative Party MLA made history last week when he became the first black Canadian to be appointed minister of justice and solicitor general.
Alberta Premier Jason Kenney noted in his announcement of the appointment that Madu grew up in "abject poverty" but worked hard to make his way through law school and surmount the challenges many immigrants face, eventually establishing a law practice with his wife in Edmonton.
In addition to implementing reforms to Alberta's justice system, Madu will be driving some of the Kenney government's most high-profile legal challenges against Ottawa, including the carbon tax and constitutional jurisdiction disputes related to Bill C-69.
Kenney also said Madu is taking the position at a time when there is more sensitivity to "the reality of racial prejudice," noting that his appointment is a "powerful statement."
Madu received his first cabinet post as the minister of municipal affairs in April 2019, before the latest round of protests and scrutiny on racial issues following developments in the United States.
"This [latest] appointment is not merely because of the times we're in," he said.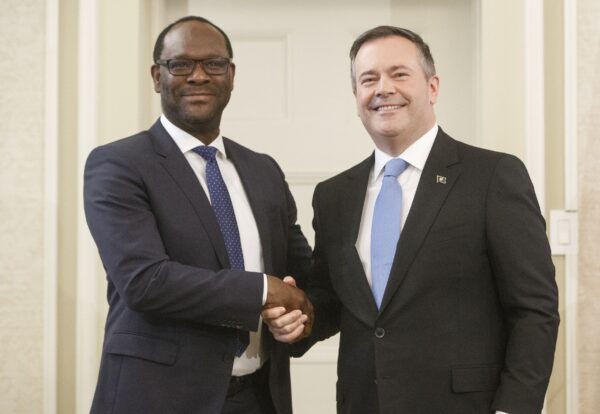 What has helped him get where he is, Madu said, is his work ethic and living in a place that is founded on a merit-based system.
"If you take a look at the trajectory of my life and the things that I have done in the face of all of those so-called difficulties and obstacles, you can tell that if your head is in the right place, if you are a responsible citizen and respect our institutions and work hard, you will achieve your God-given potential," he said.
'Fair Deal'
Madu said one of his primary focuses in his new position will be ensuring that public safety and the rule of law is maintained. He will also be focusing on working with the federal government to ensure that Albertans "are getting a fair deal from the Confederation."
"I think it's important that leaders at the federal level and the provincial level work to ensure that all of us, regardless of where we live in the country, feel that we're all being protected," said Madu.
In addition, Madu will oversee a review of the province's Police Act amid concerns about racism and abuse of authority. Kenney has said that as someone who has "experienced racial prejudice," Madu brings "that sensitivity" to his new role.
Looking into the backlog in the justice system, made worse by the COVID-19 pandemic, is another priority.
"I don't believe that money solves all our problems. Oftentimes, it is looking for efficiencies and making sure that we build institutions that are effective and lean in how we deliver programs and services," he said.
Rule of Law
Madu, who describes himself as a "principled conservative," said the rule of law is very important for the prosperity of any nation.
"The rule of law is the backbone of the progress [we have made]," he said.
He adds that the new generation needs to remember the sacrifices of "those who came before us." These are the people who fought in wars to hold off tyranny and helped build Canada's institutions to ensure the rule of law prevails, he said.
"It's important, especially in this year of uncertainty, to remind people that we must continue to build institutions that are based on the rule of law, individual responsibility, and have a justice system that applies to everyone," he said.
Madu condemns the recent toppling of the statue of Sir. John A. Macdonald in Montreal, who he said "spent his entire life to help create this amazing country that we have." The destruction of the statue serves "no identifiable good to the cause of justice or equality," he said.
"No country is perfect, and I know that very well from where I was born and raised," he said.
There was a civil war in Nigeria between 1967 and 1970, but the history of the war hasn't been allowed to be taught at school, said Madu. That's why he thinks there is "still a deficiency of segmentation in that part of the world."
"It is very important that we have the opportunity to build stronger societies by learning all of our history, good or bad."