For Colin Kaepernick and the San Francisco 49ers, about the only thing left to play for is avoiding the worst season in the franchise's proud history.
It was another Sunday to forget for the five-time Super Bowl champions, who were blown out by the Atlanta Falcons 41-13 to extend a team record with their 13th straight loss.
The 49ers (1-13) gave up touchdowns on four of Atlanta's first five possessions, the home team's only slipup coming when Devonta Freeman fumbled inside the 1 just before powering into the end zone.
San Francisco managed a couple of impressive drives before halftime, both ending with touchdown passes from Kaepernick, but still trailed 28-13. The 49ers were totally stifled after the break, managing just four first downs and 85 yards.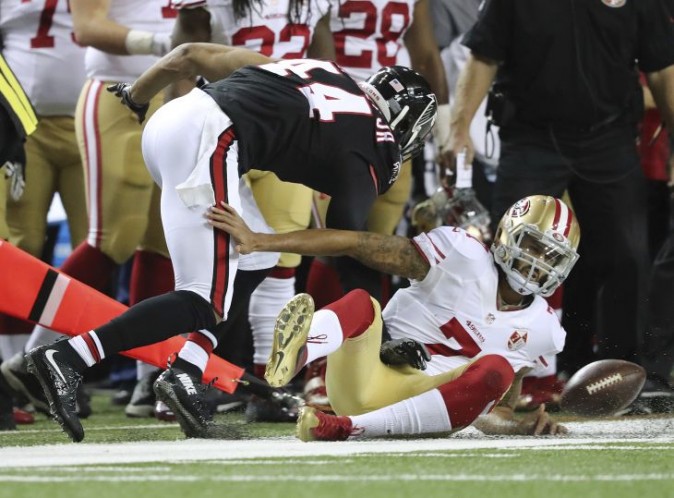 "It's a difficult situation," Kaepernick said, in what definitely qualified as an understatement.
The 49ers must win their final two games to keep from joining a trio of San Francisco teams that finished 2-14, most recently in 2004.
They travel to Los Angeles to face the Rams next Saturday — the only team they beat, 28-0 in Week 1 — before closing the season at home against the NFC West champion Seattle Seahawks.
If San Francisco loses both of those — certainly a distinct possibility — this team will be all alone as the worst to wear the scarlet and gold.
"We've just got to rebuild," linebacker Ahmad Brooks said. "I guess we're in the rebuilding stage right now."
In an interesting twist, the 49ers were blown out at the Georgia Dome, where they won the NFC championship and advanced to the Super Bowl just four seasons ago.
"When I first walked into the locker room, my locker and (offensive tackle Joe) Staley's locker were the same lockers we had during that championship game," Kaepernick said. "So there was a little bit of a nostalgic moment."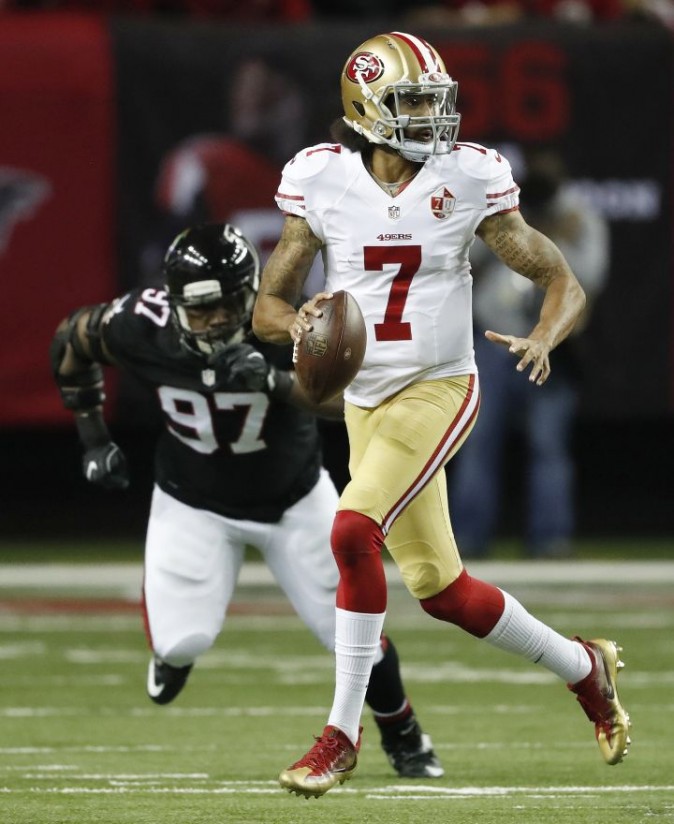 Then, back to reality.
"We have to create a culture of winning," Kaepernick said. "Right now, our culture isn't that."
The losing streak has certainly turned up the heat on Chip Kelly, who could be the second straight one-and-done coach for the 49ers.
Jim Tomsula was dumped after going 5-11 in his lone season.
Kelly's debut has turned out even worse.
"We've got two more games left," Brooks said. "We'll see what happens at the end of the season."
The latest defeat followed a familiar script.
San Francisco's defense, which ranked last in the NFL in points, total yards and rushing yards allowed, was burned over and over again by Atlanta's high-powered offense, which has scored more points than any team in the league.
Freeman ran for 139 yards and three touchdowns, including a 34-yarder . Matt Ryan completed 17 of 23 passes for 286 yards and two TDs. Aldrick Robinson, filling in for injured Atlanta star Julio Jones, hauled in four passes for a career-best 111 yards.
The Falcons finished with 550 yards and 29 first downs.
"We knew what they were going to bring," Brooks said. "Matt Ryan and his receivers are very good."
The 49ers?
They are very, very bad.
"It's tough," safety Antoine Bethea said. "No one likes this type of losing."