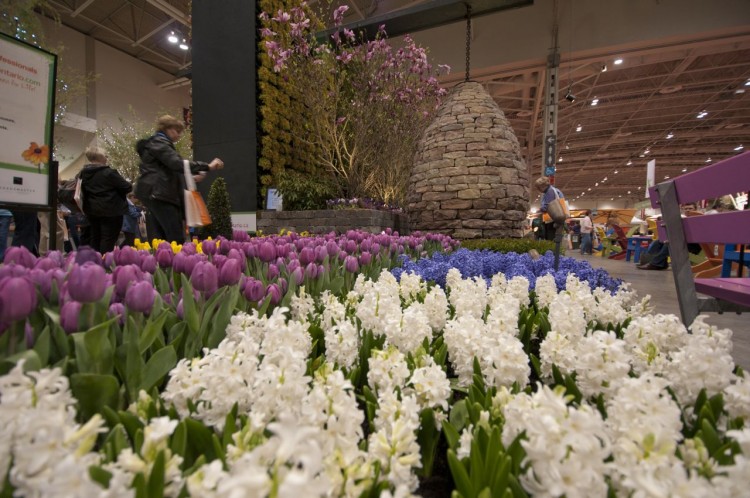 TORONTO—2012 is a big year for Canada Blooms, the biggest year ever in fact. Co-locating with the National Home Show for the first time makes the combination North America's largest home and garden event, both in attendance and square footage.
Previously running for five days, this new union has presented some challenges for Canada Blooms.
"Now we're operating for 10 days," says Canada Blooms General Manager Gerry Ginsberg. And because plants indoors don't last long, "halfway through we will have to do a complete replanting. If you come twice you'll have a different experience."
With the National Home Show managing "all things home," Ginsberg asserts that this has helped "focus on the quality of our gardens."
The Canada Blooms theme for this year is City Culture. An ambitious program of urban gardening and national and international arts and culture has been put forward.
There are a number of evening arts events on the schedule, including a March 16 celebration hosted by CTS featuring Canadian Idol winner Brian Melo, and Chinese television station NTD's evening of traditional Chinese dancing, fashion, and martial arts on March 23.
JUNO award winners and nominees are returning this year, teaming up with some of Canada's best feature garden builders to create gardens that reflect each artist's sense of style.
Feist, Jann Arden, Keisha Chanté, Sarah Slean, as well as Royal Wood, who is performing on the main stage on March 20, all provided garden designs.
"It shows a different side of performers," says Ginsberg. "We love to tell good news stories about performers in Canada."
Another new addition is the first international feature garden put together by the Taipei City Government and Taiwan Tourism.
Taiwan recently hosted a six-month gardening and horticultural exhibition that ended in April of last year and attracted over four million visitors. Canada Blooms is presenting a cultural evening saluting Taipei City on March 19.
Gardening Celebs
Of course, we must mention the glut of Canadian gardening celebrities who are scheduled to speak on an exhaustive number of garden-related themes. Included are the legendary Mark Cullen, CityTV's Frank Ferragine, HGTV's Denis Flanagan, Marjorie Harris from the Globe & Mail, and Ed Canadian Gardening's editor Tara Nolan, to name a few.
Keeping in line with this year's urban theme, the mammoth speakers list includes quite a number of talks about urban gardening, including ContainerScaping Parts 1 and 2; VeggieScaping (which may be combined well with The Year Round Vegetable Garden); Live Large in Your Small Space; Trees for Small Spaces; and Unlimited Opportunities in Container Gardening.
But this is only a partial list, so please visit the website at Canadablooms.com. There is simply too much going on.
Bring in photographs of your garden and your tale of woe to Super Sundays. You must register online to book a 20-minute consultation with a master gardener either March 18 or March 25.
There are also a number of workshops you can sign up for online (deadline March 12). Each workshop is capped at 12-15 people. The price, from $45–$80 depending on the workshop, includes all the materials you need to complete a project, plus a ticket to Canada Blooms. If you take more than one workshop, you may receive a discount (call to inquire).
Our workshop pick is the Small Scale Gardening Series, which includes Seed Starting, Sub-irrigated Planters, Indoor Growing Solutions, and Small Scale Composting. Whether you want cheap organic food or are planning for the zombie apocalypse, it pays to be prepared.
As a kindness to consumers, one $20 ticket grants you admission to both Canada Blooms and the National Home show. Since you may exhaust yourself trying to see it all, you can return for a second day and pay only $9.
The Epoch Times is a proud sponsor of Canada Blooms 2012.