A farm in Spokane, Washington, is dedicated to helping veterans learn to farm and explore agriculture as a livelihood.
The idea for Vets on the Farm came when director Vicki Carter attended a screening of the film "Ground Operation: Battlefields to Farmfields" in 2013. The film is a documentary on veterans who are finding a new sense of mission and organic therapy through sustainable agriculture.
At the end of the film, Carter, who is also director of Spokane County Conservation District in Washington State, had an "Aha!" moment.
Carter is from a family that at times has five or six members at military deployment, and she understands the critical need for a supportive and therapeutic transition for veterans returning to civilian life. The film heightened her sense of urgency.
"After the film, I literally said to myself: We had to do something, we had to do something!" she told The Epoch Times.
That "something" is Vets on the Farm, today a thriving hands-on teaching farm that also provides organic produce to the community.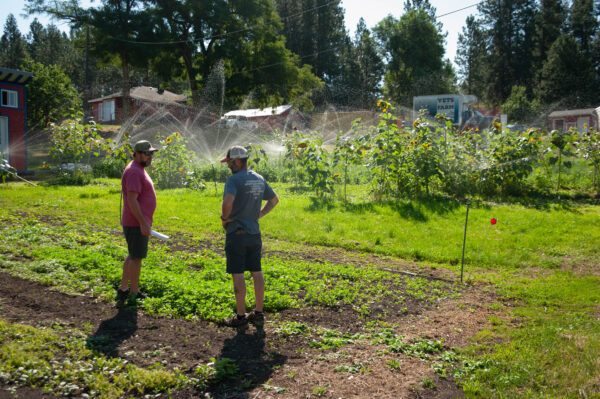 Vets on the Farm utilizes a three-acre piece of land, the use of which is donated by the Emtmans, a local farming family that so believes in Carter's vision that they offered the use of the land the day after they heard Carter speak in a local farm bureau meeting.
In 2015, the program was launched with a hands-on training part as well as a 12-week curriculum that covers all other aspects of farming as a business, such as accounting, taxes, zoning, marketing, insurance, financing, and land purchase.
At the end of the 12-week course, the veterans can figure out if farming is a good fit for them, instead of spending a lot of money on their own to find it out.
"I call it the 'Big Sifter,'" Carter said.
Interns work on the teaching farm through at least one growing cycle. If they return for a second season, they must pick an area of interest, such as culinary herbs, and take deeper dives into that area to become the "in-house" expert on the subject.
In 2019, the farm added "Big Dena," a refrigerator truck affectionately named after a variety of tomato the veterans have grown. Since then, during harvest, the veterans have brought the produce to neighborhoods to provide organic food for the communities most in need.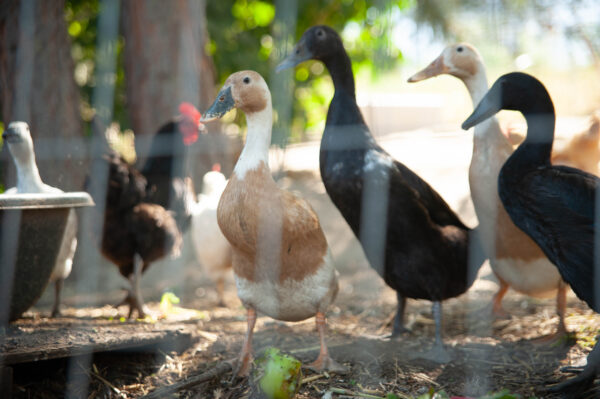 Since its inception, the farm has also added small animal husbandry, with chickens and a small flock of ducks herded around by a duck named Becky, who assumed leadership in the flock from when she was a duckling.
New this year is the "Manager's Program," designed to train veterans for employment in management on farms.
Carter, in her role as a conservation leader, sees firsthand the urgent need to fill the growing gap left by an aging farmer population.
"The average farmer in this country is 60 years old!" she said. "We don't have a back fill for this profession and occupation. How are we going to feed ourselves someday?"
The answer, to her, lies closer to home than big agriculture farms in distant lands.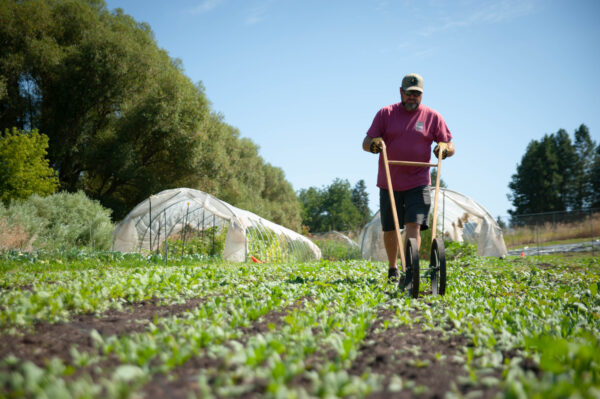 A Sense of Mission
As the mother of a soldier, Carter also deeply understands the therapeutic role the land can play for veterans suffering from trauma or just alienation.
In 2015, Grant Weber, after 21 years in the Air Force and six tours in the Middle East, was looking for a new way of life.
"I knew I wanted to be in agriculture. But I just couldn't find my way," he told The Epoch Times.
After hearing Carter speak of Vets on the Farm's mission at a local fundraising event, Weber joined her without looking back.
"You always have a mission when [you] are in the military, a regiment, a certain task that needs to be done at a certain time. In farming, that sense of mission, that rigor and discipline demanded of us by the cycles of growing, that focus on the goal, is found again," he said.
It was a natural fit for him.
"The military spent 21 years teaching me how to be an airman. But they did not spend one day teaching me how to be a civilian. The one big thing for me in this program is that I really enjoy helping other veterans grow, [helping] them transition into a different direction," he said.
Weber is now the farm manager and defines his new mission as follows: "If I can help one veteran, it is all worth it."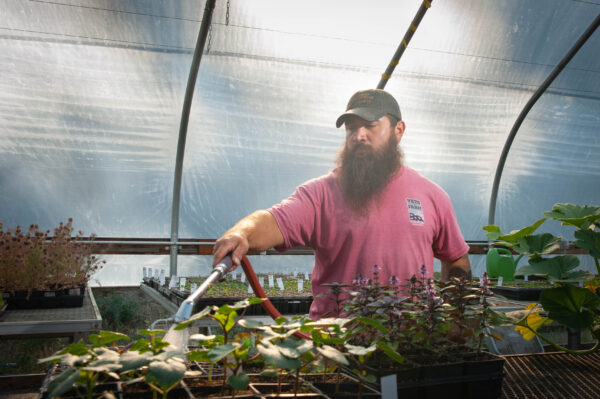 Another veteran, Duane Zbranek, was looking for peace after eight years as a medic in the Army and two tours in Iraq. However, peace was elusive.
"I wasn't at ease with life in general," Zbranek, now the farm's greenhouse manager, told The Epoch Times.
On the farm, he picks beans and digs his hands into the soil alongside other veterans who are bound by their shared past and understand him without words. There, he has mended his spirit and found the peace he was searching for.
"It gives my resilience back. I have found a new goal, new purpose in life," Zbranek said.
To Carter, that is the heart of Vets on the Farm.
"We are growing people. We are cultivating the ability to transition. We are growing community," she said.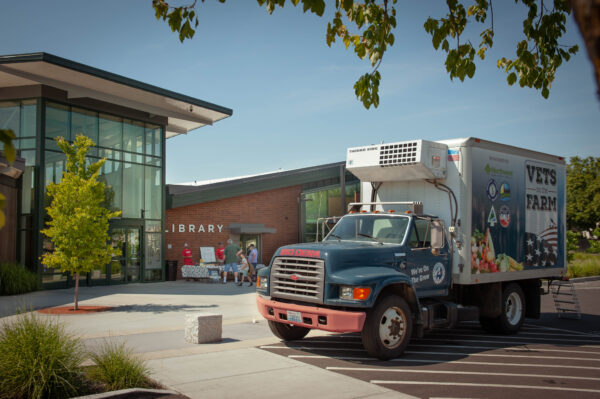 Helping the Community
To intern Jeff Kissler, the community part of it speaks volumes.
"We joined the military to defend the country we love, to defend our mothers' front porch. And we would do it again in a heartbeat. But to me, what I am doing now is not much different than in the military in its principle," Jeff told The Epoch Times as he manned the mobile produce stand in front of Spokane Public Library.
"I am delivering organic, wholesome, fresh produce to people. I am sharing the goodness of wholesome living. I am still taking care of my community. I am still defending my people," he said.
To the customers who love them, these veterans are still the heroes they have been, just even more relevant and closer to home.
"I don't just come here to buy produce. I come here to have great conversations," customer Dina Angelis said.
Angelis told The Epoch Times she has been coming to the farm stand since it opened in 2016.
"They are here to feed the community. I love the whole idea behind it. All of it!" she said.
Joe Mastel, a veteran and farmer, agrees. Because he believes so much in the program, he and his brother have donated hundreds of pounds of sausages he makes for the fundraisers for the farm.
Carlos Delsid, a graduate from the program, credits Vets on the Farm not only for the fledgling farm business he now owns, but also for the improvement of his own mental and emotional health.
"These are my people. My tribe. It offers me a sense of belonging. It renews my sense of kinship," he said.