South Korea's freshly elected president Yoon Suk-yeol has selected a former prime minister who served the country more than a decade ago to join his administration next month, according to local reports on Sunday.
Yoon nominated 72-year-old Han Duck-soo to be prime minister in his cabinet, restoring his role during the liberal Roh Moo-hyun administration from April 2007 to February 2008, The Korea Herald reported.
"The new government is tasked with setting a foundation for a new leap for our economy in a serious environment and thoroughly preparing for an era where economy and security are combined as a single factor," Yoon said at a press briefing.
"I believe nominee Han Duck-soo is the right person to oversee and coordinate the cabinet and carry out state affairs based on his abundant experience in both public and private sectors," he added.
Yoon cited Han's experience in various key positions in the public sector as the reason he chose him for the role. Han served under another liberal president, Kim Dae-jung, as the trade minister and chief secretary for policy planning from 1998 to 2003.
He also served as an ambassador to Washington during the conservative Lee Myung-bak administration from 2009 to 2012 and played a key role in negotiating a free trade agreement with the United States.
Han expressed his gratitude for the nomination but noted that he felt a "huge responsibility to be nominated for the seat of prime minister in this very serious situation surrounding South Korea's economy and geography."
"As the newly nominated prime minister, I will assist President Yoon Suk-yeol to create policies from the administrative branch that are drafted through constant discussions and communications," he said at the press briefing.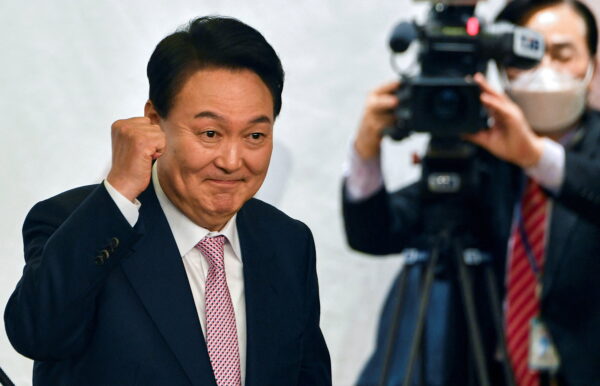 Meanwhile, Yoon's spokesperson announced last week that the new president will send a delegation to the United States for policy consultations on the bilateral alliance and North Korea, among other things, ahead of the launch of his cabinet on May 10, Yonhap News Agency reported.
"Yoon has decided to send the delegation for comprehensive, practical consultations on key pending issues with the U.S. side," spokesperson Kim Eun-hye told reporters, adding that Yoon may also send delegations to other countries if needed.
The conservative former top prosecutor will replace current liberal President Moon Jae-in next month. During his election campaign, Yoon had vowed to seek a stronger U.S. security commitment to deter North Korean military threats, saying that preemptive strikes may be necessary if Pyongyang displays signs of an imminent attack.
Yoon is expected to nominate his choices for foreign, defense, finance, and other ministers in the coming weeks.
The Associated Press contributed to this report.