Hamilton Wins F1 Singapore Grand Prix, Leads Points as Rosberg Retires
September 21, 2014 11:51 am Last Updated: September 21, 2014 11:56 am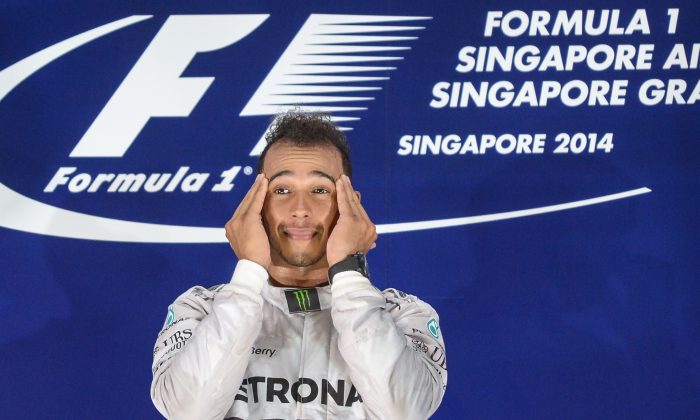 Lewis Hamilton started from the pole at the Formula One Singapore Grand Prix Sunday and led the entire way except for pit stops, winning F1's only night race for the second time in five years.
Not only did the Mercedes driver win the race, he retook the lead in championship points after teammate Nico Rosberg was stricken with terminal electrical problems only 15 laps into the 60-lap, two-hour event.
Red Bull swept the rest of the podium, with three-time Singapore winner Sebastian Vettel coming home 13.5 second behind the Mercedes, less than a second ahead of teammate Daniel Ricciardo.
Tire wear is always a major issue at Singapore, and Lewis Hamilton, not usually considered a gentle driver, stretched his first set of Supersofts 14 laps—longer by a lap than his closest competitors—and then gambled by taking on another set of Supersofts on lap 26.
Using Supersofts for the second stint was a risk because it would leave Hamilton on the much slower Prime Soft tires for the final half of the race while the competition might be on the Supersoft Options.
No doubt Mercedes technicians were planning for a Safety Car at some point during the race—every previous Singapore GP had one, and 2014 turned out to be no exception. On lap 30 Force India's Sergio Perez hit Sauber's Adrian Sutil, leaving the track littered with bits of the Force India's front wing.
Many teams pitted under yellow, swapping back to Supersofts which they would have to stretch until the end of the race, easily twice as long as the tires would normally last. Vettel like Hamilton opted not to pit, preferring to maintain track position—but Vettel was on the Primes, and would be switching to the faster Supersoft options at his last stop.
Ricciardo also stayed out on his Softs, while Ferrari's Fernando Alonso pitted and rejoined in fourth.
When the race went back to green on lap 38, Hamilton knew he needed a huge lead to be able to pit and keep his lead. The Mercedes driver immediately started lapping 2.5 seconds faster than Vettel, whose team told him to forget the final stop, and to finish the race on his current tires.
Hamilton stretched his tires until lap 52—an amazing 18 racing laps (plus eight under caution) but couldn't quite get the 28 seconds' lead he needed to stay in first place. Hamilton swapped to Primes and rejoined in second, just behind Sebastian Vettel, with eight laps left to chase the Red Bull pilot.
Here Red Bull's strategy fell short. Vettel's ancient Prime tires were no match for Hamilton's brand new set; the Mercedes driver swept past easily on lap 54. To compound Vettel's problems, teammate Daniel Ricciardo was right on his wing, and Fernando Alonso was less than a second behind Ricciardo. Vettel concentrated on defending second place—the best finish of the season for this four-time world champion—while Hamilton sailed off to the win.
Lewis Hamilton now leads teammate Nico Rosberg by three points 241 to 238, thanks to Rosberg retiring and gaining no points (it was Rosberg's second DNF of the season, while Hamilton has had three.) Daniel Ricciardo lays a distant third with 181 points, ahead of Ferrari's Fernando Alonso with 133. Sebastian Vettel, after winning four consecutive World Drivers Championships, has yet to win a race in 2014 and is fifth in points with 124.
Formula One stays in Asia for its next race, the Japanese Grand Prix on October 5. Tickets and travel packages are available through the official Formula1.com website.