This year's Halloween festival looks likely to be dampened by wet and stormy weather in the eastern part of the U.S., while the first snowfall of the season could hit the Midwest. Further west, however, the National Weather Service (NWS) said that wildfire conditions look set to remain in California until the weekend.
The NWS forecast that warmer, wetter weather will prevail on Thursday afternoon and evening, putting something of a dampener on trick-or-treating. Over one inch of rain can be expected on Thursday in parts of Pennsylvania. The bigger cities in the northeast look set to escape the worst of the rain, though Thursday will remain wet and dreary through the day and into the evening.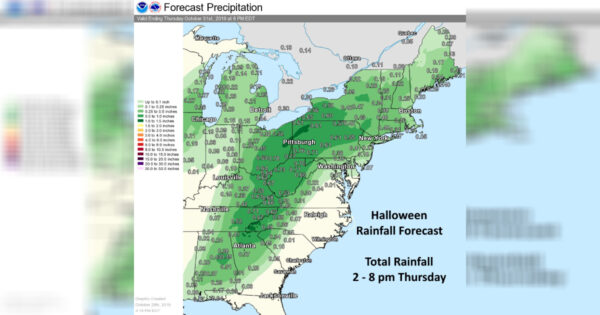 Halloween is looking rather wet for the trick or treaters across most of the Eastern US Thursday afternoon and evening. Temperatures are expected to be a little warmer than normal for the end of October. pic.twitter.com/P46wBZ9moK

— NWS Eastern Region (@NWSEastern) October 28, 2019
Meanwhile, a strengthening storm system moving down from Canada will bring a blast of cold arctic air to the northern Rocky Mountains and across the Plains on Tuesday and Wednesday. Over 800 flights had been cancelled or delayed at Denver International Airport by Tuesday evening. Up to a foot of snow may still fall in some areas of Colorado, while some parts of the Midwest could see up to 6 inches of snow by Halloween.
Strong winds from a northwesterly direction picked up through Tuesday, with the wind chill factor leading to temperatures as low as minus 25 degrees in places. Those winds will mean bitterly cold weather for trick-or-treaters across the Midwest and into the Rockies.
Snow continues to fall here at DEN 🏂 Passengers – please drive safely and check your flight status with your airline before heading to the airport! We are expecting light to moderate snow to continue into tomorrow. #cowx #theairportisopen ❄️ pic.twitter.com/fPZMv3PkYx

— Denver Int'l Airport (@DENAirport) October 29, 2019
Further west, according to the NWS,  "Critical-to-extreme fire weather conditions are expected to linger into Friday across portions of California." However, the warmer weather there looks set to cool down substantially toward the end of the week. A Special Weather Statement notes that cold, dry winds are expected to push inland from the San Francisco Bay area, with the coldest temperatures on Wednesday night and Thursday morning, but possibly extending into the weekend.
Critical-to-extreme fire weather conditions are expected to linger into Friday across portions of California. Gusty offshore winds of up to 60 mph and low humidity will raise risks for quickly-growing wildfires. Listen to local officials and report immediately any new fires. pic.twitter.com/1oCWF2DTnn

— National Weather Service (@NWS) Oct. 28, 2019
According to the Statement, "Vulnerable populations without access to heat or proper shelter are at the highest risk of the cold. This includes those who have been recently impacted by the wildfires across the region who may have been forced to evacuate their homes." The NWS urges those who need shelter to contact their local officials. "Cold nights have taken lives in our area in the past—so please seek warmth and shelter if you feel you are not adequately prepared for these conditions."
The weather statement comes as warm winds fanned forest fires, causing the Governor of California to declare a statewide emergency.
#RedFlagWarning in effect today through Wednesday and even into Thursday for some areas due to strong winds and low humidity throughout California. This is #CriticalFireWeather so make sure you and your family use caution when outdoors and are prepared. https://t.co/upBwccgmOg pic.twitter.com/zxU0ZO4MgU

— CAL FIRE (@CAL_FIRE) October 29, 2019