Half of Autistic Children Run Away: Protecting the Vulnerable in NYC
May 25, 2014 7:03 am Last Updated: May 25, 2014 10:03 am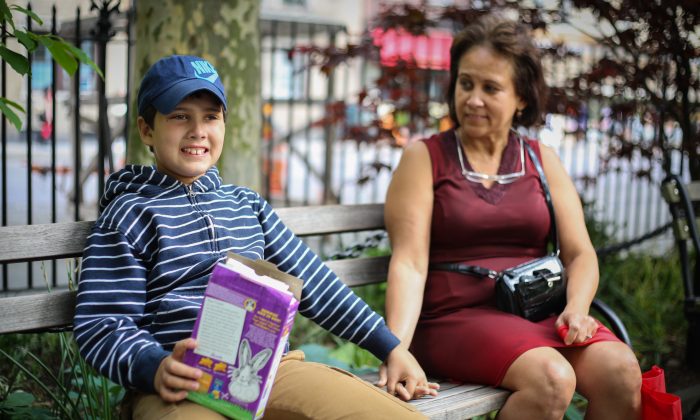 NEW YORK—This past week the city was on high alert again after news broke that Eliceo Cortez, a Brooklyn ninth-grader with a developmental disability, failed to return home after school on a Friday.
His panicked mother and relatives searched throughout the weekend, posting and passing out fliers around Coney Island, which was near his school, Leon M. Goldstein High School for the Sciences, in Manhattan Beach. 
The search focused on Coney Island, with its amusement park, as the boy has a fascination with the noise and lights of video arcades. His mother did not think he knew how to ride the subway. 
Half of Autistic Children Run Away
49 percent of all autistic children will run away at least once before they turn 17.
26 percent of the autistic children who run away are missing long enough to cause concern.
24 percent of those missing are in danger of drowning.
65 percent of those missing are in danger of traffic injury.
Finally, after three excruciating days, Eliceo was spotted near his school early Monday morning. He had spent the weekend at Times Square, at a Dave and Buster's arcade. He had slept on the subway. 
The boy had never run away before, and his mother had no reason to believe he would. His behavior was completely unprecedented and unexpected, yet for children with disabilities, this is par for the course, and a very tough challenge for parents to handle. Eliceo himself was also terrified by the experience, according to his mother, Nancy Reavis, 48.
One-half of all autistic children will run away at least once before they turn 17, according to a study by the American Academy of Pediatrics.
Children with autism experience difficulty with communication and social skills running the gamut from mild to severe. 
In 2010 at least 1 in 68 children were diagnosed on the autistic spectrum, which covers five variants of the disease, according to the federal Center for Disease Control and Prevention. And the numbers are rising. Ten years ago it was one in 125.
Gloria Corsino has two autistic sons. "One is really unaware of danger, he's a runner," she said. "And one is very compliant and if he's given a verbal directive, he can follow through."
Corsino is the president of the parent-led Community Education Council for District 75, the school district that takes care of the 21,000 New York City public school children with the most severe disabilities. 
She said she is trying to offer her children an opportunity to live in the "least restrictive environment … but they do need barriers." 
The Older, the Harder
Marjorie Dienstag was worried about her youngest son from the age of 2 when she discovered that he could not speak, not even "mommy." 
Her pediatrician said it was because they were raising the child to be bilingual. But she felt it was different. A few months later she called Early Intervention, a federal program to diagnose and help children with disabilities.
And her instinct was right—little Ryan was on the autistic spectrum. 
Dienstag had already experienced raising her oldest son with attention deficit disorder, but this was on a whole new level.
Ryan, 10, now diagnosed, looks normal on first sight, but after a 20-minute conversation in a coffee shop, he became restless, so Dienstag suggested walking outside instead. 
"Five more minutes, if we would have stayed in here, and too many people walked in, you would have seen his face get kind of whitish and his eyes get a very severe look," she said. "When that happens, within seconds, either he's going to throw things around, or scream, or hit."
He wouldn't hit anyone with force, but he may slap a stranger if he perceives him as a source of the noise he couldn't bear, Dienstag explained.
Schools Supervision
For parents with autistic children, they can protect them all the way until they reach the door of the school. At that point they must entrust their children to the city. 
It took Dienstag $5,000 in lawyer's fees to get her son into a nice school with small-enough classes, and another barrage of advocacy after he was bullied by another child, to get him a 1-on-1 paraprofessional, or para. Paras are the best way to ensure the child's safety as an adult watches over the child at all times. 
Avonte Oquendo, an autistic 14-year-old, ran away from school last October and was found dead two months later. The school's case report found a series of small distractions of the assigned staff that allowed Avonte to slip away unnoticed. Avonte did not have a 1-on-1 para, and his school also wasn't fully aware that he was a runner.
For Eliceo Cortez's mother Reavis, she insisted on a 1-on-1 para before allowing her son to return to school after last weekend's episode. 
Corsino has her own way. She writes a detailed profile of her sons and makes the school representatives sign it. She's polite, but let's everyone know she means business. "I'm passive aggressive," she said. She plans to approach the schools chancellor about hiring more paraprofessionals for children who need them.
"We would not want to have a repeat episode of Avonte," Corsino said. "We are bound to see another one if we don't correct this sooner rather than later."
Dienstag said she feels most do not understand how difficult and unpredictable it is to look after an autistic child. 
Her son Ryan hasn't run away—not recently anyways. But he may in the future. The older they get, the harder they are to handle. "They're very spontaneous," she said. "My theory is he hasn't started."