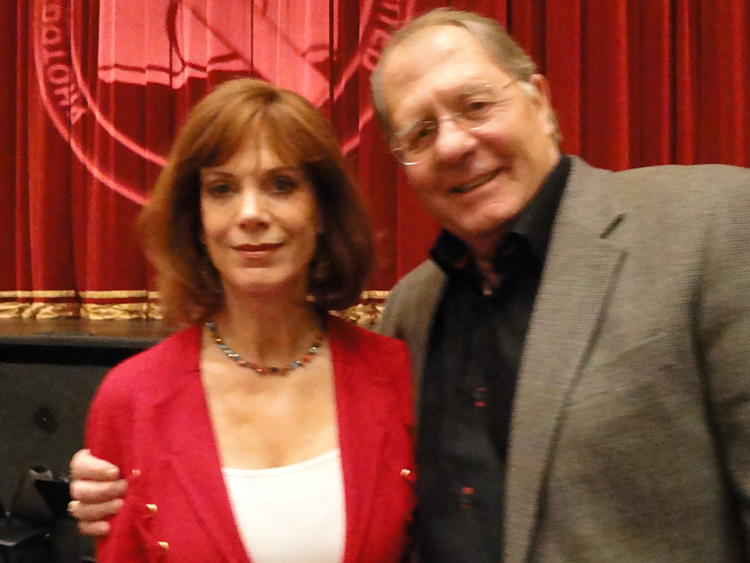 ST. LOUIS—Shen Yun Performing Arts Touring Company performed in the midst of a 2012 world tour to a sold-out show at the Peabody Opera House on Feb. 19.
Ray and Catherine Overmann were among the audience enjoying New York-based Shen Yun's performance.
Mr. Overmann has been teaching gymnastics for over 30 years and is the owner of Olympiad Gymnastics Training Center. Serving St. Louis since 1979, "Olympiad has opened centers throughout the St. Louis metro area to provide gymnastics services as well as other special programs to children of all ages. Today Olympiad is the one of the largest gymnastic training center in the United States," states the gymnastic centers website.
"I'm enjoying it very, very much," said Mr. Overmann of the performance.
He appreciated the art, music, and traditional Chinese culture. "The music—it's very good," he said of the Shen Yun Orchestra that plays all-original compositions and includes a combination of classical Western and traditional instruments.
Included in a Shen Yun performance is a collection of short pieces where "audiences travel from the Himalayas to tropical lake-filled regions; from the legends of the culture's creation over 5,000 years ago through to the story of Falun Dafa in China today; from the highest heavens down to the dusty plateaus of the Middle Kingdom," says Shen Yun's website.
"It's very entertaining," said Mr. Overmann as he looked forward to the second half of the performance.
He was most impressed with "the multimedia-with the background, the music, the dancers, and a little bit of an explanation. What I enjoy is the multitude of the performing arts coming through." He said it was not only the dancing but "all of it together."
The digital projection backdrops are like magical windows to completely different realms—from vast open grasslands in one dance to the stately elegance of Tang Dynasty pavilions in another, according to Shen Yun's website.
Integral to a Shen Yun performance is classical Chinese dance, which is one of the most comprehensive and expressive dance systems in the world, still largely unfamiliar to the West. Difficult tumbling techniques and jumps found in gymnastics originally came from classical Chinese dance.
As a gymnastic instructor, Mr. Overmann said he can "appreciate the … tumbling and techniques as well."
Mr. Overmann enjoyed "the variety of the pieces" in Shen Yun's performance.
With reporting by Catherine Wen and Kelly Ni
Shen Yun Performing Arts, based in New York, tours the world on a mission to revive traditional Chinese culture. Shen Yun Performing Arts Touring Company will be in Nashville for performances on Feb. 25 and 26 at the Tennessee Performing Arts Center.
For more information visit ShenYunPerformingArts.org