Actress Gwyneth Paltrow whispered briefly to Terry Sanderson, the plaintiff in the ski collision case, after the court victory.
After the verdict was read, Paltrow walked over to Sanderson, touched his shoulder, and told him, "I wish you well," Sanderson told reporters outside court. He responded, "Thank you dear."
Sanderson told Extra that Paltrow's words were "very kind of her."
Paltrow didn't talk with reporters after leaving the courtroom and elected to release a statement later that day through social media.
"I felt that acquiescing to a false claim compromised my integrity," Paltrow said in a statement released by her representatives that she also posted as an Instagram story for her 8.3 million followers.
Paltrow expressed her gratitude and thanked everyone involved during this trial.
"I am pleased with the outcome and I appreciate all of the hard work of Judge Holmberg and the jury, and thank them for their thoughtfulness in handling this case," she said in an Instagram post.
Paltrow's attorney, Steve Owens, addressed the media outside the courtroom with his own statement after the verdict.
"Gwyneth has a history of advocating for what she believes in—this situation was no different and she will continue to stand up for what is right," he said.
Plaintiff: 'Who Wants to Take On a Celebrity?'
Paltrow came out victorious when a Jury found her not guilty after a verdict was decided on Thursday.
The verdict comes after Sanderson accused Paltrow of purposely colliding with him as the two skied at Deer Valley Ski Resort in Park City, Utah, in 2016.
Jurors deliberated for about two hours, before announcing their verdict, after an 8-day trial.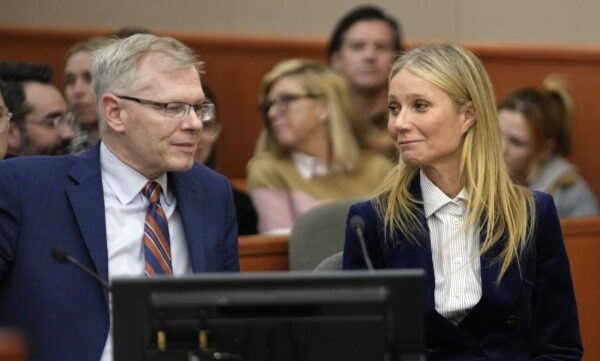 A jury awarded Paltrow $1, an amount she wanted to receive to symbolize that it wasn't about money.
Sanderson initially claimed the accident to be "a hit-and-run ski crash" and accused Paltrow of skiing "out of control and hit" him in the back, adding she "got up, turned and skied away, leaving Sanderson stunned, lying in the snow, seriously injured," according to his 2019 lawsuit.
Both parties blamed the other for the collision. Sanderson, 76, broke four ribs and sustained a concussion after the two tumbled down the slope, with Paltrow landing on top of him.
Paltrow took the witness stand during the trial to insist that the collision wasn't her fault, and to describe how she was stunned when she felt "a body pressing against me and a very strange grunting noise."
Paltrow's defense team represented Sanderson as an angry, aging, and unsympathetic man who had over the years become "obsessed" with his lawsuit against Paltrow. They argued that Paltrow wasn't at fault in the crash and also said, regardless of blame, that Sanderson was overstating the extent of his injuries.
"She did not knock him down. He knocked her down. He was not knocked out. Ms. Paltrow was skiing carefully. She skied slowly to stay behind her children, who were receiving skiing instruction slightly further down the mountain," the actress alleged in her 2019 filing.
Sanderson believes everything during this trial was worth it and wasn't afraid to take on a celebrity like Paltrow.
"You get some assumed credibility from being a famous person," he told reporters. "Really, who wants to take on a celebrity?"
The jury's decision marks a painful court defeat for Sanderson, the man who sued Paltrow for more than $300,000 over injuries he sustained when they crashed on the ski slope at Deer Valley Resort.
"He never returned home that night as the same man. Terry has tried to get off that mountain but he's really still there," attorney Robert Sykes said during closing arguments.
The Associated Press contributed to this report.