Guo Feixiong on Hunger Strike and Arrested in Xinhua Gate, Beijing
February 10, 2006 12:00 am Last Updated: February 10, 2006 12:00 am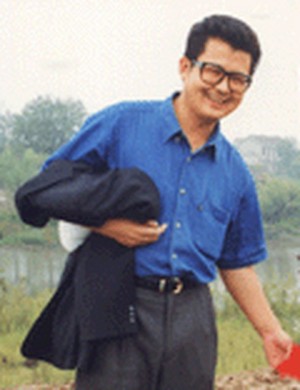 Civil rights activist Guo Feixiong went to Xinhua Gate, Beijing on February 8 to be on a hunger strike. The police quickly took him away. Prior to February 8, Guo was out of the public eye for four days.
Guo sent an email to friends on the morning of February 8 and said, "I will go to Xinhua Gate by 3:30 p.m. today to stage a peaceful protest and go on a hunger strike. I will protest the violence and rights violation [by the government] and protect human rights, democracy, and the rule of law." "There's no need to publicize this news. You also don't' need to call me afterwards, because I am sure I'll be arrested." Besides, he also attached a "Statement of Peaceful Appeal in Xinhua Gate," announcing that he will be on a hunger strike for 48 hours to protest.
Zhao Xin, a civil rights activist from Beijing, said that when a friend called Guo at 4:15 p.m. on February 8, Guo was dealing with the police at Xinhua Gate. Later when called, Guo said he was in a police station, and had to hang up the phone shortly.
Qi Zhiyong, another civil rights activist from Beijing, went to Xinhua Gate to support Guo as soon as he heard the news. When he arrived at Xinhua Gate at 4:30 p.m., Guo was already taken away. The police told Qi that all six people on hunger strike were arrested.
When Qi arrived, he saw that the police were loading people into a van, almost ready to leave. He followed the van on a motorcycle until they reached the Fuyoujie Police Substation. He asked the police if Guo Feixiong was among those in the van. The police wanted to take Qi into the police substation and said, "You're a key figure." Qi quickly left the police substation. When he returned to Xinhua Gate, the police questioned him and took away his identification card. The police said, "Now that you came, you can't leave." "We are waiting for you." "We will report you to our superiors." After some negotiation, a state security officer from Xicheng District escorted him home.
Qi said that that there were many state security officers, plainclothes police, and police at Xinhua Gate. They continued to arrest people. The police kicked an elderly woman to the ground. Qi said that usually Xinhua Gate was not a busy place, but there were a lot of people on February 8. They might be here because of Guo's hunger strike.
Zhao Xin said that the reason why Guo did not tell people where he was in the last few days was because he planned to come to Xinhua Gate in Beijing to go on a hunger strike and protest. He did not want the government to interfere.
Last year, Guo was detained by the police for 106 days because of his support of the local elections at Taishi Village. Recently, agents of the Guangdong government followed him around the clock. Guo and his family members went shopping on February 2 and were followed and photographed by plainclothes police. Guo took a photo of the plainclothes police and reported the incidence to Linhe Police Substation. The police detained him until past midnight. Then seven or eight plainclothes police surrounded Guo in the lobby of the police substation and beat him severely.