Recent updates on the official Guns N' Roses website and Facebook page has fueled speculation that the band's classic lineup might be getting back together for a reunion.
The website updated to show the band's old logo of two revolvers wrapped with red roses.
The Boys of Guns N Roses,Slash,Steven,Izzy,Duff with beer,and Axl with a Pepsi. pic.twitter.com/6BdEnEKOy3

— peterkidder (@peterkidder) December 27, 2015
The Facebook page for the band changed the profile photo to the old logo, which was used on the band's mega-hit 1987 album "Appetite for Destruction," which included hits "Welcome to the Jungle," "Paradise City," and more.
The last GNR album was "Chinese Democracy" in 2008, and the title song of the same name touched on the persecution of Falun Gong, a meditation practice banned in China. The album was subsequently banned in the country.
According to Consequence of Sound and other reports, there have been rumors for months of the band getting back together. The band's website also began selling merchandise with images of Axl Rose, Slash, Duff McKagan, Izzy Stadlin, and Steven Adler–the original band members.
The website speculated that the band could reunite for Coachella 2016.
Since the late 1990s, Axl is the only original member to remain with Guns N' Roses. Guitarist Slash left in 1996, bassist McKagan left in 1997, drummer Adler left in 1990, and guitarist Stadlin left in 1991. The GNR classic lineup played together last in Argentina in July 1993.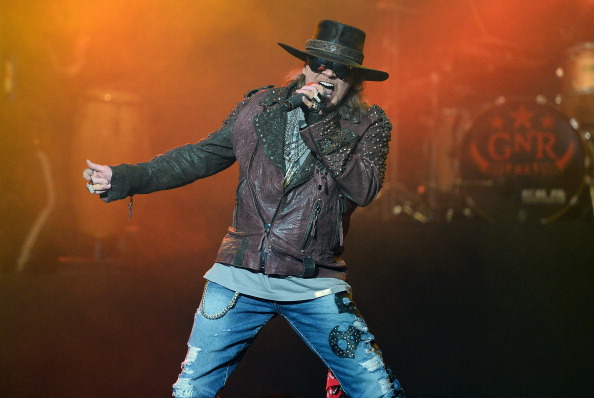 For years, Axl and Slash have battled over the band's logo and other copyrights.
Billboard reported that the two are now on good terms.
"It was probably way overdue, you know," Slash was quoted by Billboard as saying, but he didn't discuss a potential reunion.
"But it's, you know, it's very cool at this point. You know, let some of that, sort of, negative … dispel some of that negative stuff that was going on for so long," he said of his relationship with Axl.
In May, Slash also talked about his relationship with Axl.
"[Axl and I] haven't really talked in a long time. But a lot of the tension that you were talking about has dissipated," Slash told CBS News at the time.. "We don't have all those issues anymore."
Meanwhile, a reunion could happen "if everybody wanted to do it for the right reasons."