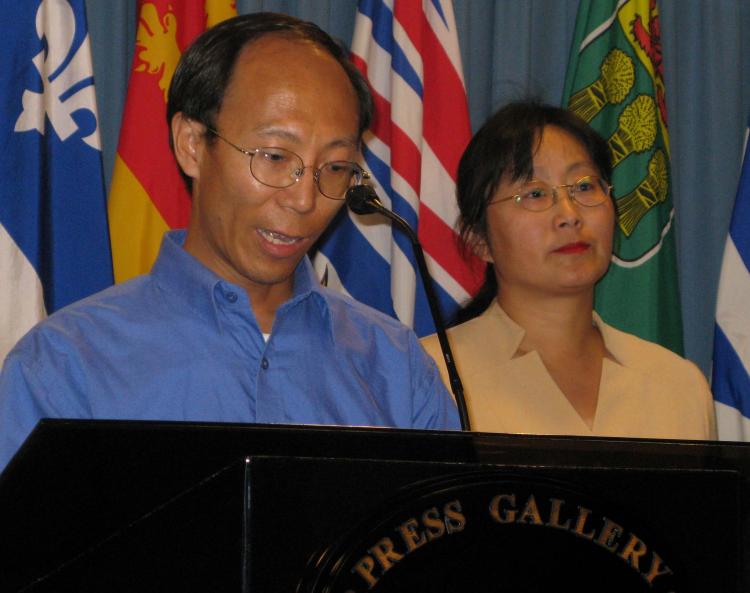 OTTAWA—An international organization investigating the persecution of Falun Gong in China has released a guidebook to help reporters attending the Beijing Olympics uncover incidences of human rights atrocities they say are taking place in nearby prison camps.
Entitled "Torture Outside the Olympic Village: A Guide to China's Labor Camps," the 22-page guidebook details seven forced labour camps that are only miles from some Olympic venues. The booklet provides maps, directions, photos and descriptions of the facilities as well as contact names and phone numbers of officials at the camps.
"Many of us have heard stories about China's gulags, but when you discover how close some of these hellholes are to Olympic venues, it's sickening," said Clive Ansley, North American president of the Coalition to Investigate the Persecution of Falun Gong (CIPFG), in a news release.
At a press conference on Parliament Hill on August 1, Falun Gong practitioner Kathy Gillis said there are "hundreds of thousands of Chinese people languishing in labour camps nearby."
Present at the press conference was construction engineer and Falun Gong practitioner of He Lizhi who was imprisoned in China for 3 ½ years. Mr. He said his crime was simply having downloaded five articles about the persecution from a Falun Gong website and sending them to friends and coworkers.
"It's a long story to describe how the inhuman treatment almost devastated my health and put me on the verge of death," he said. "Due to the damage to my lung, I still cannot make normal deep breaths."
Ms. Gillis said, "For the past nine years Falun Gong practitioners have suffered under the largest, most violent persecution that the Chinese people have seen in decades."
The communist regime uses a "re-education through labour" (RTL) detention system to hold prisoners for up to three years without charge, trial, or possibility for judicial review, the guidebook says.
The U.S. State Department's 2007 report on human rights in China states that "some foreign observers estimated that Falun Gong adherents constituted at least half of the 250,000 recorded inmates" in these labour camps.
Amnesty International has said that in the lead-up to the 2008 Olympic Games, Beijing police "have used abusive detention practices such as RTL to 'clean up' the city."
Lucy Zhou of the Falun Dafa Association of Canada said that since December 2007 more than 8,037 practitioners have been arrested across China.
"Chinese security ordered a 'strike hard' campaign against Falun Gong," said Zhou.
A 2006 report by Manfred Nowak, the U.N. Special Rapporteur on Torture, noted that Falun Gong practitioners accounted for 66 per cent of all alleged torture victims in China. More than 3,000 documented cases of death due to abuse in custody have been reported since the persecution began in 1999.
According to the Falun Dafa Information Center, in 2004 a U.S. federal court found Liu Qi, head of Beijing's Olympic Organizing Committee, responsible for the torture of Falun Gong practitioners while he was mayor of Beijing from 1999 to 2002.
In July 2006 former Canadian Secretary of State (Asia-Pacific) David Kilgour and award-winning international human rights lawyer David Matas published a report concluding that the Chinese communist regime has been killing imprisoned Falun Gong practitioners on a large scale for their organs. There have been two other corroborating studies.
The report was released a few months after The Epoch Times first broke the story of illegal organ harvesting in March 2006.
In a 2008 United Nations Human Rights Council report, Mr. Nowak reiterated his previous year's request that the Chinese regime give a full explanation in response to the charges of organ harvesting.
CIPFG hopes that the international media at the Olympics will "use this guide and this rare opportunity of access to conduct an investigation of their own."
Although the possibility of reporters entering these camps is slim, Ms. Gillis asked them to "remember and give voice to innocent Falun Gong adherents and other civil rights defenders who suffer torture and death only miles from where athletes celebrate victory."
The seven labour camps documented in the guidebook are located in Beijing, Qingdao, Qinhuangdao, Shanghai, Shenyang, and Tianjin.
"Torture Outside the Olympic Village: A Guide to China's Labor Camps," is available online here or as a 22-page PDF here.