Guangdong Province Governor Sued in San Francisco by Falun Gong Practitioners
October 16, 2005 12:00 am Last Updated: August 21, 2015 5:46 pm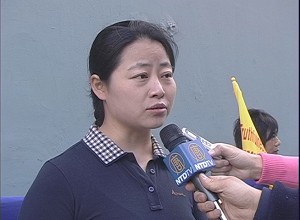 SAN FRANCISCO—On October 14, Huang Huahua, the governor of Guangdong Province in China was sued in the United States District Court in Northern District of California by International Advocates for Justice and the Human Rights Law Project for crimes of torture. During Huang Huahua&#039s visit to San Fransico Falun Gong practitioners held events to call attention to his crimes.
The case asks the United States Federal Court to investigate his crimes in depth. The indictment also asks the Federal Court to notify the U.S. Customs and Border Protection, U.S. Immigration and Naturalization Services, U.S. Department of Homeland Security, Federal Bureau of Investigation and other organizations regarding Huang Huahua's crimes.
On the same day the suit was filed, Huang Huahua met with a group at the Hilton Hotel in San Francisco to recruit them to engage in business investments in China.
Falun Gong practitioners of the Bay area made their presence felt, holding up banners that said, "Bring Evil Police and Bad People Who Persecute Falun Gong to Justice" and "Stop Persecuting Falun Gong." At noon, they held a press conference about suing Huang Huahua. One of the plaintiffs Zhou Xuefei, was present at the press conference.
Zhou Xuefei was an editor of best-selling books for an advertisement company in Shenzhen City, Guangzhou Province. Because she practiced Falun Gong, Ms. Zhou was sentenced to three years of forced labor, during which she almost lost her sight as a result of torture. Later, through extensive efforts by overseas Falun Gong practitioners and the help of U.S. government officials and international human rights organizations, she was rescued to the United States.
Ms. Zhou said, "In the labor camp, a large number of Falun Gong practitioners were illegally detained. One of the detained female practitioners was beaten with four electric batons at once by an evil person. Some screamed miserably during the tortures. It was really scary…"
Duan Li, a representative of the Western U.S. Falun Dafa Association, said that during Huang&#039s tenure in Guangdong, he actively participated in the persecution, authorizing others to conduct arbitrary arrests, detentions, harassment, torture, and killing of Falun Gong practitioners outside the justice system. The persecution was escalated. Li said, "By law, he should be punished, thus we sue him."

Duan Li further explained that the charges by Falun Gong practitioners against Huang Huahua are the first lawsuit against a CCP official since the publication of a Falun Dafa Association statement on October 9, 2005. The Association's announcement stressed that, "Those who refuse to do the right thing and instead continue to follow Jiang's scoundrel regime's persecution policies will be severely punished as perpetrators of unforgivable crimes," and that "At this critical historical moment, the Falun Dafa Association has made a special announcement: From today on, overseas Falun Gong practitioners will file civil or criminal lawsuits against all important government or CCP officials who participate in or continue to implement the persecution of Falun Gong and as a result, commit new crimes in addition to those they have already perpetrated against Falun Gong."
Li said that, according to incomplete statistics for Guangzhou City from 1999 to 2000, during which Huang served as CCP Party Secretary of Guangzhou City, 42 Falun Gong practitioners were tortured to death, 3 disabled from torture, 3 tortured to a state of mental collapse, and 66 Falun Gong practitioners suffered some form of torture. Since the CCP tries to block the release of such information, it is likely that there are more actual cases.
Reports from the United States Department of State already have affirmed that since 1999, Falun Gong practitioners have been persecuted because of their beliefs. Since the persecution started, each year the China section of the U.S. State Department&#039s Human Rights report and the Annual Report on International Religious Freedom have mentioned the Chinese Communist Party's persecution of Falun Gong.
Duan Li pointed out that international human rights organizations have all affirmed that Falun Gong practitioners are persecuted because of their beliefs. The CCP has a record in the United Nations and other international human rights organizations for its persecution of beliefs. The United Nations Working Group on Arbitrary Detention, the Working Group on Forced Abscondence, the Special Rapporteur of the Commission on Human Rights on the question of torture, and the Special Rapporteur of the Commission on the question of the death penalty have published reports regarding this.
Dr. Gao Dawei, a former professor and Dean of the Food Science Institute of South China University of Technology, said that since Huang Huahua's visit abroad, there are still reports of Falun Gong practitioners being severely persecuted in Guangdong Province. Falun Gong practitioners want to sue him to warn him that he needs to take action to immediately stop persecuting Falun Gong.