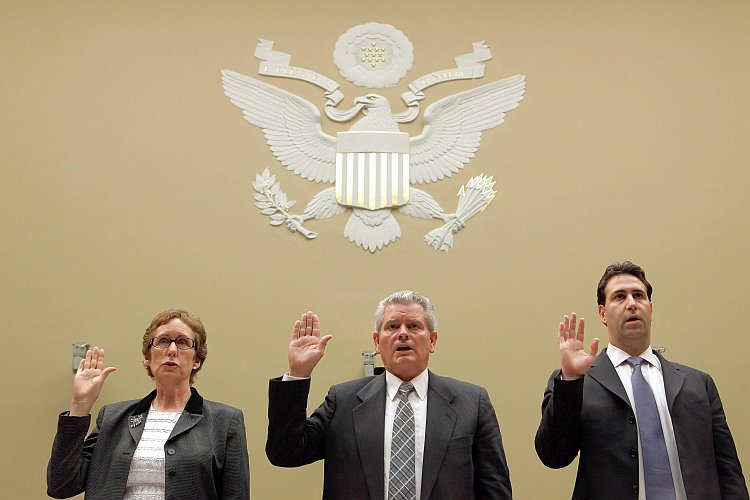 A former regional commissioner of the General Services Administration (GSA) declined to testify over allegations that he organized a lavish 2010 conference in Las Vegas that cost $800,000.
Responding to questions on why GSA officials allowed the funding of the conferences, the agency's former regional commissioner, Jeff Neely, invoked the Fifth Amendment to avoid self-incrimination.
"I respectfully decline to answer based upon my Fifth Amendment constitutional privileges," he said, according to a video feed of the hearing uploaded by C-SPAN.
Maryland Rep. Elijah E. Cummings, a ranking member on the House Committee on Oversight & Government Reform, said Neely "engaged in an indefensible and intolerable pattern of misconduct," allowing his wife and family members to partake in lavish parties in luxury suites, according to a transcript.
Cummings, a Democrat, read aloud an email to personal friends that was allegedly from Neely, which said, "We will get you guys a room near us and we will pick up the room tab. Could be a blast."
"I know. I am bad. But as deb and I say often, why not enjoy it while we have it and while we can. Aint going to last forever," the email said. Cummings added that Neely's wife "reportedly impersonated a federal employee" to join the conference.
According to reports, the five-day-long event featured a mind-reader, a clown, and a team-building exercise that cost $75,000.
Such activities, Cummings added, may have been going on for several years under Neely's administration. "[T]he planning of it was similar to what had happened in previous WRCs [Western regional conferences]. You know, we just kind of proceeded based on that," said a statement from one witness.
Martha Johnson, whose administration took over after Neely, resigned early this month after a report from the agency's inspector general disclosed spending on the conference.
In her opening statements to the House Oversight Committee on Monday, Johnson claimed responsibility for the gaffe.
"I deeply regret that the exceedingly good work of GSA has been besmirched. I will mourn for the rest of my life the loss of my appointment," she said, according to the video feed.
The Las Vegas conference started out as a training session but later turned into a "a raucous, extravagant, arrogant, self-congratulatory," event, she added.
Rep. Darrell Issa, a Republican from California who heads the Oversight Committee, used the conference expenditures to make his election year political point.
"What has come to light surrounding GSA's activities should give pause to anyone who has opposed cutting government size and spending," Issa said in a prepared statement.
Issa questioned why the Obama administration took 11 months "to take meaningful action," adding that there were documents which showed some officials "believed even this year that the report could be kept private and the outrageous details dealt with quietly."