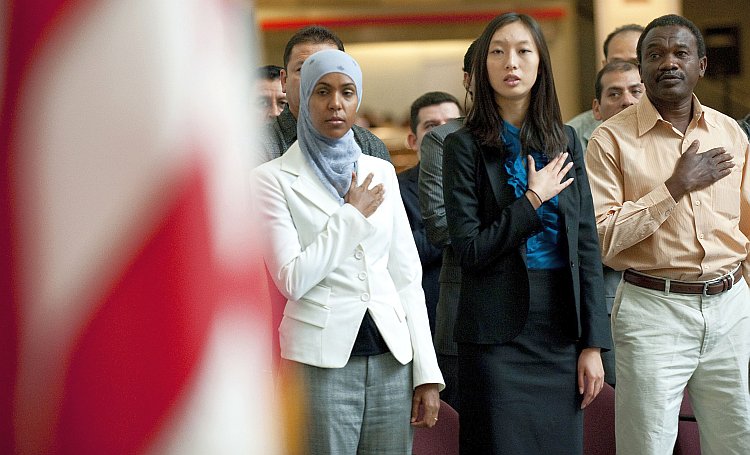 Asian-Americans are the fastest-growing community in the United States and their businesses are more likely to create jobs than any other, but they are largely ignored by government and political parties, according to recent research.
The Asian-American population grew 46 percent, to over 17 million, between 2000 and 2010—faster than any other group, including Latinos, the 2010 U.S. Census reported.
Asian-American entrepreneurs are also great drivers of the economy, owning more than 1.5 million businesses, employing around 3 million people, and turning over an annual payroll of nearly $80 billion.
This success, however, tends to overshadow real needs that exist in Asian-American communities.
"While some enjoy economic success and stability others struggle through severe poverty," said Daniel Ichinose, director, Asian Pacific American Legal Center's (APALC) Demographic Research Project.
Ichinose spoke at the launch of a report compiled by the Asian American Justice Center (AAJC) and APALC. The report collates data from a range of government departments and surveys, including the 2010 Census.
The report, "A Community of Contrasts—Asian-Americans in the United States: 2011," highlights the diversity within the Asian-American community and identifies disparities in education, income, housing, and health.
"Language needs are among the most pressing," Ichinose said at the launch held in the Congressional Rayburn House in Washington, May 2.
One in three Asian-Americans is Limited English Proficient (LEP), which means they face challenges in communicating in English.
"That is likely to impact their ability to negotiate the job market and access critical services like emergency services," Ichinose said.
It states that just under half the Chinese, Hmong, Cambodian, Bangladeshi, and Vietnamese populations are LEP in America, while less than 20 percent of Filipinos and Japanese have difficulty with English.
The disparities are evident across a range of measures. For example, while the average per capita income for Asian-Americans is around $27,000 each year, Taiwanese, Chinese, Malaysian, Japanese, Sri Lankan, and Indian average $30,000 or above, while Bangladeshi, Laotian, Cambodian, and Hmong bring in under $17,000, the report states.
One in five Bangladeshi and Hmong people are living in poverty in America. With the report's breakdown in age and demographics, it is notable that 20 percent of Koreans over the age of 65 were also living in poverty.
Election Issues
The evidence presented in the report identifies a number of major election issues impacting the Asian-American community, including immigration, health, and housing.
"Over one million Asian-Americans are undocumented immigrants," noted Deepa Iyer, executive director of South Asian Americans Leading Together, during a panel at the report's launch.
Immigration is often associated with the Hispanic community, but the Asian-American demographic has expanded from traditional areas like Chicago and New York, to Southern states like Georgia and Arizona. New immigration legislation in states like Arizona is creating an environment of fear and "living in the shadows," said Iyer.
"These individuals are really living their life on hold when they are out of status," she said.
Iyers called for greater reform on immigration, saying many Asian-Americans remained separated from their families for years due to their inability to navigate the system.
Lisa Hasegawa, executive director of the National Coalition for Asian Pacific American Community Development, welcomed the breakdown in data in the AAJC report saying the limited amount of data on Asian-American communities had impacted the potential for service delivery and policy initiatives.
Citizen Engagement
The lack of engagement in the political process is an issue for the Asian-American community, according to a recent survey by Washington-based Lake Research Partners.
"While we have seen Asian-American governors, mayors, Congress members, and senators in the past decade, Asian-Americans lag behind in terms of their political participation and visibility," the report states.
The Lake report also notes that Asian-Americans have been largely untapped politically.
While around 16 percent of Asian-American voters identify as Republican voters, and 31 percent as Independents, more than half identify as Democrats. However, the Democratic Party has reached out to less than one-quarter of their supporters in the last 2 years and the GOP has reached out to around one-third of theirs, the report found. Independents have been largely ignored.
According to Daniel Ichinose, Asian-Americans were big voters in the 2008 elections, with around 86 percent of eligible voters casting ballots. Citizenship engagement, however, is an issue with little over half of those eligible to vote making the effort to register.
The AAJC report says more naturalization and voter registration efforts, and greater bilingual voter assistance would ensure greater representation in the upcoming presidential election.