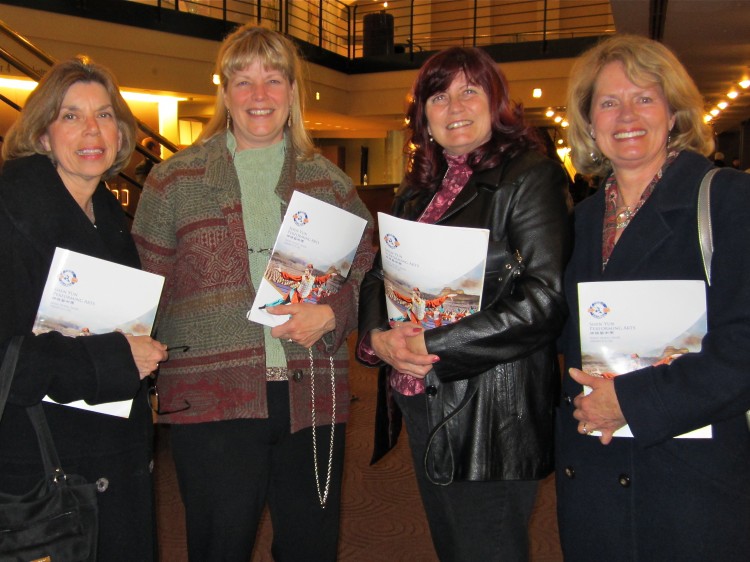 DENVER—Shen Yun Performing Arts Touring Company performed at Denver's Buell Theatre as part of Shen Yun's 2012 World tour. Diane Long, Joslyn Wonner, Sheila Shea, and Kit Dwyer attended the show and gave many cheers during the performance.
New York-based Shen Yun was established in 2006 with a mission to revive the 5,000-year divinely inspired Chinese culture. This is the fifth year Shen Yun has performed in Denver.
Mrs. Long, who provides in-home care for an elderly couple said, "I felt like I was walking on those mountains as they were dancing."
Shen Yun's digital projection backdrops complement and synchronize all aspects of the performance and are magical windows to completely different realms. The backdrop transforms the stage "From vast open grasslands in one dance to the stately elegance of Tang Dynasty pavilions in another; from dusty yellow battlegrounds to tropical beaches to Himalayan peaks to picturesque scenery of the Yellow River Delta," according to Shen Yun's website.
Mrs. Long said she was struck by all aspects of the performance, which left her with a sense of peace. Her friend, Mrs. Wonner said, "It's amazing that dance and music overcomes any kind of communication … the narration was in Chinese and English, that was nice … music and dance is a universal language."
Mrs. Shea, a teacher, said, "One of the lines the narrator said struck me. They said this is like guiding humanity to the divine. It was raising everything a notch higher."
Mrs. Shea recalled the dance Snowflakes Welcoming Spring. "With the cherry blossoms in the background, I thought they took something from nature, something simple and just raised it. You could feel spiritualness about everything," she said.
In the dance, "Snowflakes gather for a final farewell before warmer days. Dancers take small, quick steps through snowy fields as they skillfully spin and twirl sequined handkerchiefs," and "In the end, the snow finally melts to reveal winter's parting gift: the birth of spring," according to the program book.
"Everything they did was raised from human thinking," and "took something simple and raised it to the divine. Magnificent!" said Mrs. Shea.
Mrs. Dwyer, a project manager with Digital Globe said, "I loved the show. Everything blended so well. The hard work of the actors is very evident, so precise. … the smiling faces of all the actors made me want to smile back—It's such a great part of my week," Mrs. Dwyer said.
Reporting by Jim Fogarty and Kelly Ni.
Shen Yun Performing Arts, based in New York, tours the world on a mission to revive traditional Chinese culture. Shen Yun Performing Arts Touring Company will perform at the Peace Center in Greenville, South Carolina, on March 1.
For more information visit ShenYunPerformingArts.org