Grimm Leads Recchia in New Poll
September 17, 2014 7:52 pm Last Updated: September 17, 2014 7:52 pm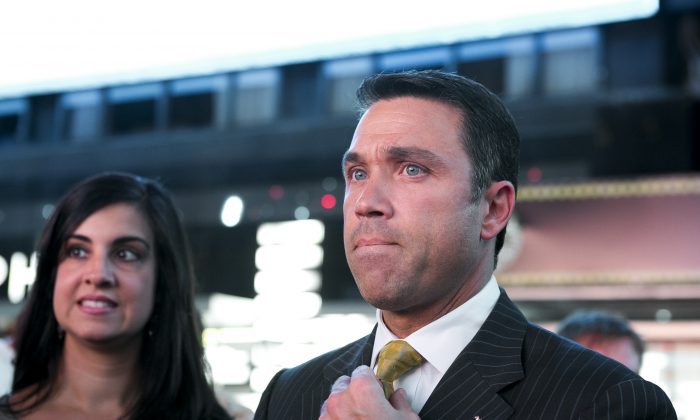 NEW YORK—Former Democratic Brooklyn Councilman Domenic Recchia is four points behind his Republican rival, incumbent Congressman Michael Grimm, according to a Siena College poll released on Tuesday, fielding the support of 40 percent of voters to Grimm's 44. 
The poll, which surveyed 585 likely voters in Staten Island and parts of Brooklyn, was the first scientific poll conducted since Grimm received 20 federal indictments for mail, wire, and tax fraud in April, showing an extremely competitive race that has garnered national attention. 
Recchia has been hampered by his longtime residency in Brooklyn, which makes up only a quarter of the congressional district. Among Staten Island voters, a quarter said that Recchia's Brooklyn residence makes them less likely to vote for him, and supported Grimm over Recchia by a 9-point margin. 
"Currently, each candidate is winning the home court contest, as Grimm leads on the west side of the bridge 48-39 percent and Recchia leads 42-35 percent on the east side, about a quarter of the district," said Siena pollster Steven Greenberg. 

Grimm's main obstacle is his federal indictments, which more than half of voters say makes them less likely to vote for Grimm in November. Grimm's legal entanglement have been the focus of negative campaigning by Recchia and National Democrats. The Democrats have pledged nearly $1 million to buy attacks ads on television reminding voters of the scandal. 
Meanwhile, the Grimm campaign has tried to paint Recchia as a mere opportunist taking advantage of Grimm's vulnerability. The cash-strapped Grimm, who has been abandoned by the national Republican establishment, still managed to buy TV ads attacking Recchia's votes to hike taxes and raise bridge tolls, a sensitive issue for Staten Islanders. 
"Now Recchia says he wants to lower tolls. But for 12 years as a Brooklyn councilman, he did nothing except vote for even more tolls. More taxes, more tolls: that's the real Recchia," the ad said, mixing in footage from Recchia's ad showing him crossing the Verrazano Bridge. 
Grimm has also kept a busy campaign schedule, trekking across Staten Island to greet voters at community events to offset his financial disadvantage; he fundraised $23,430 in June, less than 10% of what Recchia raised in the same period, but his campaign still reached more voters than Recchia's. 
While more than half of voters say they've seen Grimm commercials or been contacted by his campaign, only a little more than one-third of voters say they've been contacted by the Recchia campaign or have seen his commercials," said Steven Greenberg. 
The election, less than seven weeks away, is on November 7th.