Kathy Griffin has for the moment become the poster woman for a culture gone wrong.
On May 30, Griffin posted on her Twitter account a photo of her holding President Donald Trump's bloody head. Within hours, the actress pulled the photo and apologized: "I crossed the line. I moved the line, and then I crossed it. I went way too far."
The next day, CNN announced in a tweet that it had fired her from her job hosting the network's New Year's Eve show.
Other entertainers have played with the idea of killing a president.
At the Women's March on Washington, held the day after Trump's inauguration, Madonna said she had thought about blowing up the White House.
While what these entertainers said and did is vile and shouldn't be excused, they are moving with powerful cultural currents.
In a recent music video, Snoop Dogg is shown shooting a Trump lookalike dressed as a clown.
While what these entertainers said and did is vile and shouldn't be excused, they are moving with powerful cultural currents.
Mashable reported that in the first 12 days of Trump's presidency, 12,000 tweets called for his assassination.
The speed of social media fuels emotion rather than thoughtfulness or consideration. Individuals may respond with anger, which incites others to anger, in a spiral of destructive emotions. Hatred and bullying come easily on social media, where the same individuals in face-to-face conversations might pull back from such emotions.
Trump himself uses social media constantly to connect directly with the public.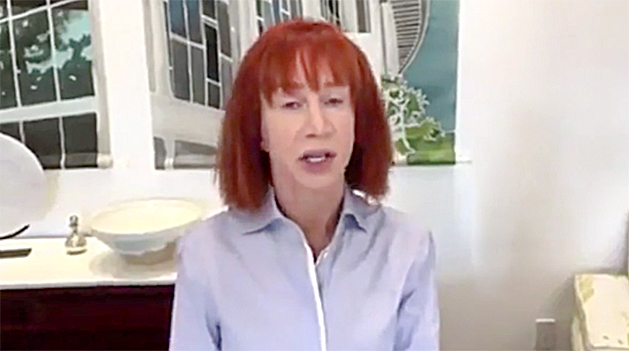 His followers on social media and those opposing him each establish an emotional baseline that changes political behavior, hardening attitudes and making communication between opposed camps more difficult.
Even so, the conversations on social media work within a change in thought we have seen unfold, especially on our nation's campuses, in the last decade.
Violence is now considered by some on the left to be an acceptable response to political differences. On university campuses, in incident after incident, groups of students have sought by force to prevent those they disagree with from speaking.
There is only a matter of degree between using force to stop someone from speaking and assassinating them—both are violence. Thank goodness that line has not yet been crossed, although Griffin must have realized she risked getting blood on her hands by posing with Trump's bloody head.
Political leadership is needed. Partisans need to be told that political violence is never acceptable, and calling for murdering a president can never be tolerated. Could a #NoViolence social media campaign be used to defuse the anger?
Views expressed in this article are the opinions of the author and do not necessarily reflect the views of The Epoch Times.