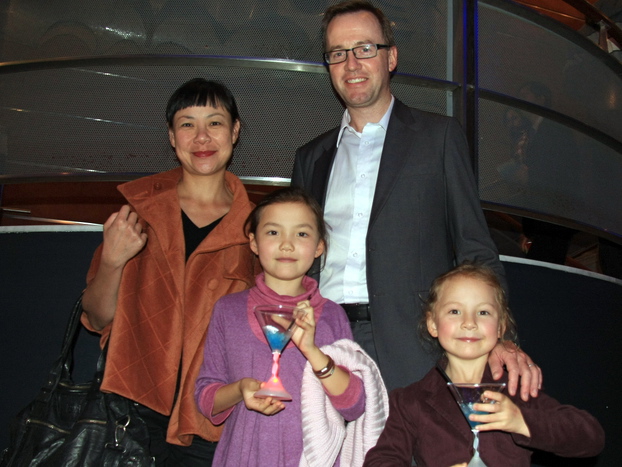 SYDNEY—Greens Member of the NSW Upper House, David Shoebridge MLC, said Shen Yun was "really spectacular".
Mr. Shoebridge was speaking at interval on the Opening Night of Shen Yun Performing Arts New York Company, at Sydney's Capitol Theatre on April 27.
"The dancing has been quite extraordinary," Mr. Shoebridge said. "Very athletic, and also quite beautiful."
The New York-based company, which was established in 2006 with the mission of reviving 5,000 years of divinely inspired Chinese culture, will be performing 11 shows in Australia's biggest city, through to May 6.
It was the first time Mr Shoebridge had seen the internationally-acclaimed show. He said he hadn't known what to expect, but said: "It has been a truly wonderful night."
At the core of Shen Yun's performances is classical Chinese dance, but it also includes dances inspired by China's numerous ethnic and folk dance styles. Says the Shen Yun website: "In a collection of short pieces, audiences travel from the Himalayas to tropical lake-filled regions; from the legends of the culture's creation over 5,000 years ago through to the story of Falun Dafa in China today."
Mr. Shoebridge was struck by the piece, The Choice, in which a young man faces a difficult decision about whether to beat up an old female friend when she stands up for Falun Dafa practitioners. The dance is based in the oppressive environment of modern China.
"Oh, it's quite a moving piece, and tells a very human story that I think the audience responded to, about just an ordinary couple having their relationship, indeed their lives, torn apart by a pretty brutal government," he said. He was referring to the more than 10-year persecution of practitioners of the traditional spiritual practice, Falun Gong (also known as Falun Dafa) in China today.
Mr. Shoebridge particularly enjoyed the ethnic and folk dances that reveal the breadth of Chinese culture.
"It's a great pleasure to see also the minority national groups represented. The Tibetans and other minority ethnic groups that sometimes get lost in the grand tale about Chinese culture, and telling that story over 5,000 years is quite an achievement," he said.
Shen Yun also includes several solo vocalists who use the bel canto technique.
The lyrics sung by Shen Yun's vocalists are all original compositions. "Brimming with philosophical reflection about human life and deep layers of meaning, they traverse the boundaries of nation, race, and culture and have been fondly received and appreciated the world over," states the website.
Mr. Shoebridge found the English translations of the lyrics on the backdrop "readily understandable … very clear."
"But most of it is an expressive art anyhow, particularly with the dancing. It's language neutral, it's quite beautiful in any language," he added.
In conclusion, he said, "It's been a wonderful night and we're looking forward to the second half."
Mr. Shoebridge had his children, Jessica and Hannah, with him at the performance. "The kids have loved it as well," he said, adding that they really enjoyed Joyful Little Monks, a dance that depicts young apprentice monks humorously having fun while cleaning their monastery.
"I think they like the cheeky nature of it," he said.
With reporting by Anna Stute.

Shen Yun Performing Arts, based in New York, tours the world on a mission to revive traditional Chinese culture. Shen Yun Performing Arts New York Company will be in Sydney, Australia, through May 6.
For more information, visit ShenYunPerformingArts.org.