Greenhouse Gas Is de Blasio's Latest Equity Issue
September 21, 2014 3:09 pm Last Updated: September 21, 2014 3:12 pm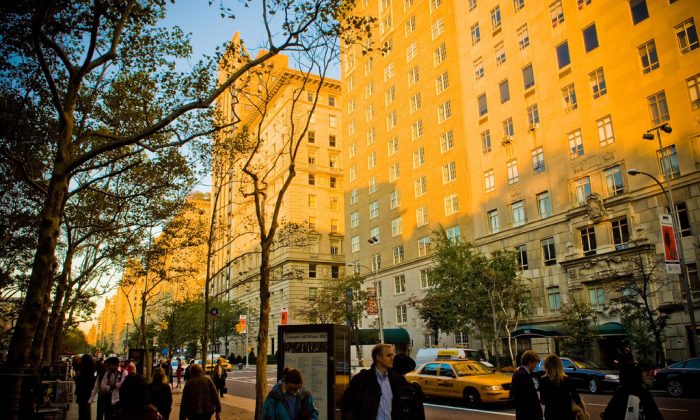 About three quarters of New York City's greenhouse gas emissions come from buildings, of which the city has many. In fact, the number of buildings over 50,000 square feet in New York City is higher than Minneapolis, Austin, San Francisco, Philadelphia, Washington, Boston, Seattle, and Chicago's numbers combined. 
"They built better walls in the Middle Ages," according to a report released by the Urban Green Council earlier this year. The biggest problem is the lack of insulation, especially with glassy high-rises, which leads to air and heat leaking out of thousands upon thousands of units in New York City's large buildings. 
But come 2050, New York City will reduce its carbon emissions by 80 percent, making it the biggest low carbon goal set by any city worldwide. 
The city's almost 4,000 public beings are being retrofitted and used to pilot a slew of clean-tech projects, and private building owners are being given incentives to reduce energy consumption as well. 
Damage wrought by Superstorm Sandy has brought the issue of resiliency front and center to the sustainability conversation, and retrofitting buildings is key to building a New York that will last, according to mayor Bill de Blasio. 
"Climate change is an existential threat to New Yorkers and our planet. Acting now is nothing short of a moral imperative," de Blasio said in a press release. 
"The change will come building by building, block by block, and neighborhood by neighborhood," he wrote. " It will require new technologies and innovative thinking."
Tackling inequality by the way of energy use and costs, de Blasio outlines his vision for one great, green New York City in a hundred-page report released to coincide with the Climate Change march Sunday. 
More than half the world's population lives in urban areas, and dense, transit-oriented cities like New York City are well-positioned to create low-carbon lifestyles. According to the report, the city has already reduced citywide emissions by 19 percent from 2005 levels. 
Here are some highlights:
– 150-200 City buildings per year to be upgraded for efficiency over the next 10 years
– Retrofit 20,000 private buildings which make up 15% of citywide square footage
– A green grant program will provide funding for affordable housing efficiency upgrades
– 30-50 percent reduction of private sector carbon emissions over the next ten years
-Increase solar generation eightfold over the next decade, developing 250MW private solar generation across the city
– Support clean-tech businesses by piloting start-ups' technologies in City buildings
– The 20,000 square foot benchmark: Previously, buildings 50,000 square feet or larger need to disclose their annual energy usage, but the minimum will be lowered to 20,000 square foot. 
The plan will be implemented through the Mayor's Office of Operations, Department of Citywide Administrative Services, Office of Long-Term Planning and Sustainability, and a progress report will be published annually.