Green Leader May Inspire Future Female Politicians
October 2, 2008 2:06 am Last Updated: October 2, 2008 2:07 am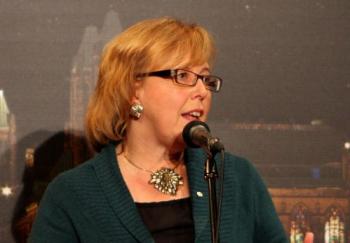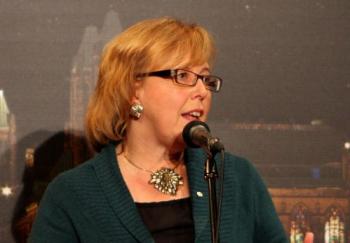 OTTAWA—It was unfortunate that gender equality was not discussed at the federal party leaders' French debate on October 1, says a political science professor specializing in women and politics.
"It [would have been] important to have gender equality as a topic at tonight's debate," said Professor Jackie Steele of the University of Ottawa, as that would have been helpful to engage more women in politics.
Although women have a high level of voter turnout already in Canada, over the last decade women's representation in parliament has stagnated at about 21 per cent while women comprise 51 per cent of the population.
Meanwhile, 30 per cent is recognized by the United Nations as the minimum benchmark to ensure women have real voice in parliament.
Elizabeth May's role as a party leader and her participation in the debates "can help encourage women to tune into the political debate and be inspired by the possibility of a woman leading a political party," said Prof. Steele.
"It is important for young women and girls to have role models and to understand that politics is an area that concerns women and a profession that is open to women. That message comes across if we have more women participating at the high level such as in a leadership debate."
The media consortium organizing the debates on October 1 and 2 initially excluded Ms. May when Prime Minister Stephen Harper and NDP Leader Jack Layton objected to her participation.
While many supported her inclusion, some said she had not earned it because her party had not had an MP elected under their banner and had not received 5 per cent of the vote in an election.
Prof. Steele said the Green Party has representation in all the key ridings across Canada and does have a significant support base across Canada.
"In a democracy, if a significant percentage of voters is supporting the party, it does a disservice to Canadians to silence the party representative by excluding them from a key debate," said Prof. Steele.
"Similar to the treatment given to the BQ and Reform Party in terms of including them in the debate, it makes sense to treat the Green Party similarly."
The latest Strategic Counsel findings of a national survey of Canadians shows support for the Green Party at 10 per cent.
To achieve "real results" of gender balance in parliament, Prof. Steele noted that the most effective mechanism for political parties and electoral laws to pursue is "the use of quotas and fixed targets to meet in terms of women's candidacy."
Prof. Steele expressed hope that the October 2 debates in English will have gender equality as a key topic.
"All of the opposition leaders would have had important things to say on how to move Canada forward and undo the damage of the last two years," she said.