Greeley and Evans Under Flood Warning on Sunday; Flooding Forces Evacuations in Weld County
September 15, 2013 3:49 pm Last Updated: June 24, 2015 8:27 pm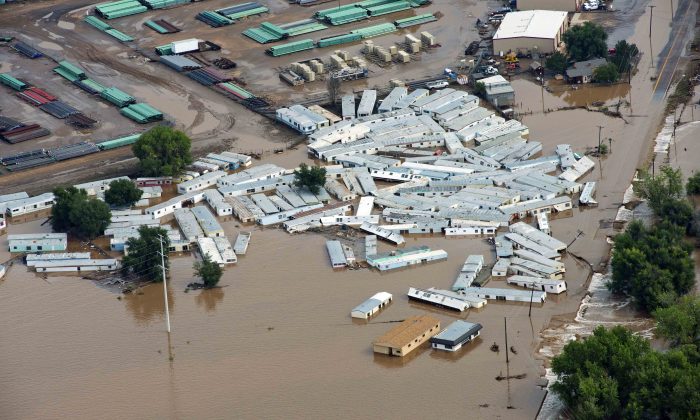 Greeley and Evans in Weld County, Colorado are under a flood warning on Sunday after flooding over the past several days has forced evacuations across the county.
In a Sunday morning update, the National Weather Service said that a flood threat still continues for a range of cities across the state. 
"Heavy rain will continue this afternoon in and near the foothills with a few thunderstorms possible this afternoon," according to the service. "Due to recent heavy rainfall…Total rainfall amounts have been increased to 1 to 4 inches could occur in some locations by Sunday evening with the highest amounts in the foothills and adjacent plains. Rainfall rates of one inch in 30 minutes or less will be possible in the heaviest rain."
A flood warning remains in effect through Sunday evening at 9 p.m. MDT.
Whenever the rain and floods cease, recovery will still take a while. The Greeley Tribune on its front page (see below) on Sunday said that "normal life may not return for months."
Hundreds of residents in Greeley and Evans have been displaced from the flood, reported the Tribune on Saturday.
"The farther east, the worse it is," said Steven Reams, Weld County Sheriff's Office bureau chief, as water continued to spread and fill acres of land near east Greeley, turning it into a giant swimming pool.
"I haven't talked to anyone today that can tell me of one that's been worse than this," he said of the flood.
Pictures of the Eastwood Village mobile home park in Evans have been shocking the public. Water came in quickly as residents watched from a nearby street.
Raymond Cisneros and his son, Joeray Cisneros, 17, saved their German Shepherd, but couldn't get to Raymond's wallet.
"We just grabbed some pictures for the memories," Joeray said.
Stella Martinez returned home to find the park flooded. She said she only has the clothes on her back.
"The last flood was around 1995, but it didn't reach this far," Martinez said.
———————-
See here for a current list of shelters in Weld County.
Road closures in the county include U.S. 34 from 37th Street to County Road 49 in Greeley; State Highway 66 is closed between 53rd Street in Longmont to Lyons; and State Highway 257 between State Highway 60 in Milliken to U.S. 34. See a full list here.
———————
The city of Evans has delegated authority to the southwest Incident Management Team, it said on Sunday.
"The Southwest Incident Management Team (SWIMT), headquartered in Durango, Colorado, is a multi-agency team that was formed in 2008 to support the management of complex all-hazard situations in Southwest Colorado and the surrounding areas. The team currently has 32 active team members that represent a broad spectrum of disciplines and come from agencies across the region. The SWIMT is the fifth Type III incident management team certified by the State of Colorado."
The primary goals of the team include keeping responders and residents safe, developing a plan to restore sewer treatment, and moving from response to recovery.
Story developing; check back for updates
Follow @ETBreakingNews for breaking news from around the world.
—————————–
More on Colorado floods
Estes Park Flooding: Rocky Mountain National Park Closed, Town Recovers (+Videos)
Longmont Flooding: Sunday Rains Force Evacuation of Greens, Champion Greens, Valley Neighborhoods (+Photos)
Colorado Flood Rescuers: People Who Stay in Homes Could Spend Weeks Without Electricity, Supplies