Greek protesters clashed with police outside Parliament on Jan. 20, with tens of thousands rallying against a name-change agreement between Greece and Macedonia on grounds that it erodes national identity.
Demonstrators chanted "Macedonia is Greek" and waved Greek flags, according to a BBC report, and a highway was temporarily blocked in northern Greece in solidarity with the protesters.
Initially, the demonstration in central Athens was peaceful, The New York Times reported, but turned violent when protesters tried to storm the Parliament building and were met by riot police holding shields.
At least 10 police officers were injured in the clashes, The Associated Press reported, as demonstrators threw rocks, flares, firebombs, paint, and other objects. Police responded with repeated volleys of tear gas and blocked access to a staircase leading to Parliament.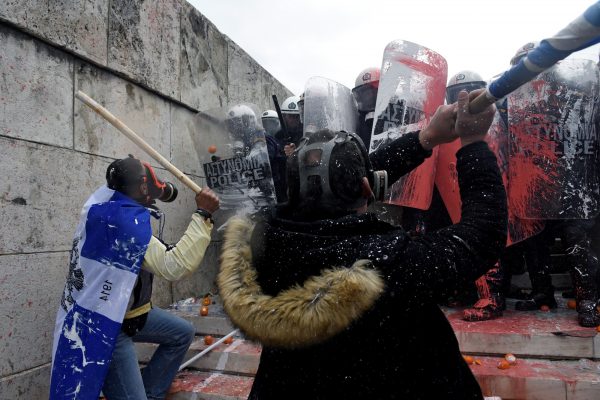 Law enforcement officials said in a statement that officers had been attacked by "organized groups of individuals with special ferocity, [using] rocks, iron bars, wooden clubs, firebombs etc. … Police forces acted according to operational plans and orders, showed restraint and professionalism, and using the appropriate methods, repelled the attacks."
Hundreds of buses brought protesters into central Athens for the rally, which took place on Syntagma Square. Organizers had said they expected about 3,000 buses would travel from northern Greece alone, while police said that by the afternoon of Jan. 20, a total of 327 had arrived from across the country.
Police estimates put the number of demonstrators at 60,000 around midday, while organizers said 100,000 people had turned up. Protest organizers had initially said they hoped to attract more than 600,000 people.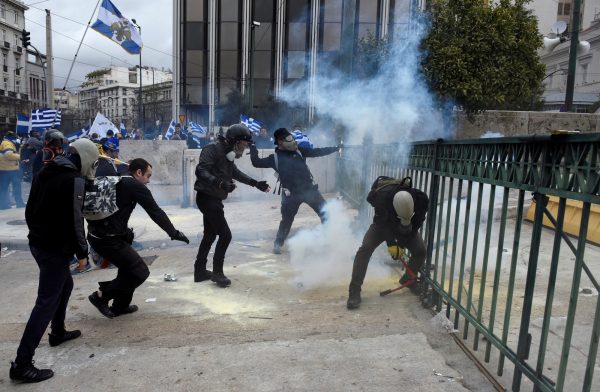 Name-Change Controversy
The protesters were rallying against an accord to give the ex-Yugoslav Republic of Macedonia a new name—the Republic of North Macedonia. Greek nationalists argue the name Macedonia should only refer to a Greek province of the same name.
"We cannot stomach this deal, to give away our Macedonia, our history," said pensioner Amalia Savrami, 67, as she waved a large Greek flag on Athens' Syntagma Square.
"Macedonia is Greek, period," she said.
Currently, the ex-Yugoslav state is formally referred to at the United Nations as the Former Yugoslav Republic of Macedonia, or FYROM. Under the new deal, the country would be renamed North Macedonia, its language would be called Macedonian, and its people would be known as Macedonians.
Greece's Parliament is expected to start a debate Jan. 21 on ratifying the deal and vote on it by Jan. 25.
Macedonia's Parliament has already approved the name change to Republic of North Macedonia.
The accord, signed by the two governments, unblocks the ex-Yugoslav republic's desire to join NATO and the European Union, once the deal is ratified by Greece's Parliament.
Macedonia declared independence in 1991, avoiding the violence that accompanied much of the break-up of Yugoslavia. Prime Minister Zoran Zaev has sought to accelerate the country's bid to join EU and NATO, and to work on resolving the decades-old name dispute with Greece.
Greece had agreed that until the name dispute is resolved, its northern neighbor could be referred to internationally as Former Yugoslav Republic of Macedonia.
Nationalists in both countries are opposed to the name change, arguing that the move erodes their respective cultural and national identities.
Reuters and The Associated Press contributed to this report.