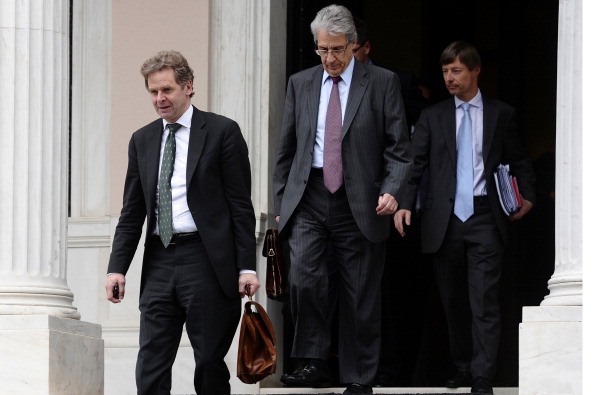 Greece missed the Monday mid-day deadline to respond to the European Union and International Monetary Fund over the terms of the latest bailout package as Greece's leadership postponed their Monday meeting to try to come to common ground on the issue until Tuesday. 
Greek Prime Minister Lukas Papademos and the three party leaders of the country's interim government have been struggling to come to an agreement on the tough terms set out by the EU and IMF.
Papademos' office said the postponement will allow him to complete talks with EU and IMF creditors, reported Athens News.
On Monday, the leaders of Germany and France applied more pressure on Athens, saying that time is running out to complete talks over the $170 billion bailout tranche that country needs to meet its operating costs and to prevent a further unraveling of the economies of them eurozone.
"We want this accord," French President Nicolas Sarkozy said, according to the Athens News. "Greece's leaders have made commitments and they must respect them scrupulously … Europe is a place where everyone has their rights and duties. Time is running out, it needs to be concluded, it needs to be signed."
Greece has been kept solvent since mid-2010 by an international rescue loan package. A second bailout was decided upon in October. However, the eurozone's leading countries have expressed deep concern that Greece is not going far enough to implement the structural reforms it already agreed to. 
Meanwhile domestically, the harsh terms already exerted, and the even harsher terms connected to the new loans, have created a social and political crisis.
German Chancellor Angela Merkel said, "Time is running short. A lot is at stake for the entire eurozone," according to the Financial Times. "We want Greece to stay in the euro," Merkel added.
"All those who bear responsibility in Greece must know we will not deviate from this position," she said.