Commentary
If you were asked to compare a European country to China, which country would you name? Belarus, perhaps. After all, the landlocked country in Eastern Europe is ruled by Alexander Lukashenko, an authoritarian who shares a close friendship with another authoritarian named Xi Jinping.
What about Greece? Yes, Greece, the cradle of Western civilization. A recent Politico piece painted a rather grim picture of the country known for gorgeous beaches and nonstop parties. Greece is fast becoming a country synonymous with big government overreach. If in doubt, just ask any of the country's journalists trying to deliver honest, objective stories.
The repression of journalists began more than a decade ago, when Greece suffered a devastating economic collapse. Fiduciary negligence led to Greece's downfall, and those in charge were embarrassed. The last thing they wanted was Greek journalists rubbing even more salt into their gaping wounds, so the elites tried to stop them from reporting one of the most important stories of the late 2000s. More recently, when the country found itself wrecked by the effects of COVID-19, journalists once again faced threats from those in charge.
According to Reporters Without Borders' (RSF) most recent international press freedom index, Greece is the 108th best country in the world to be a journalist. That's the lowest position of any European Union member country. Two years ago, Greece was ranked 38 places higher. (In case you're wondering, Norway took the top spot on the RSF report; meanwhile, the United States was ranked at No. 42.)
Rather strangely, Greece's abysmal placing hasn't stopped the Greek government from introducing a law designed to curb misinformation. In truth, though, the new law has little to do with misinformation and far more with coercion and control. Journalists and media broadcasters identified as propagators of "fake news" now find themselves threatened, attacked, and surveilled. Some individuals are even sent to prison.
Can you think of any other country that hounds its journalists in a similar manner? Of course, you can.
In China—a country that finds itself in the 175th position on the RSF report—journalists are routinely rounded up and "disappeared." If the report is anything to go by, the Chinese method of persecuting and prosecuting journalists is gaining momentum. This brings us back to Greece. It's rather ironic that the birthplace of democracy is now one of communist China's closest allies.
In October last year, when a number of European countries criticized the Chinese Communist Party's (CCP's) treatment of Uyghurs in Xinjiang, the Greek government opted to remain silent. That silence spoke volumes. In truth, China and Greece's relationship goes back years. China has invested heavily in Greek infrastructure. It basically controls Piraeus Port, the chief seaport of Athens that's strategically located between Asia and Europe.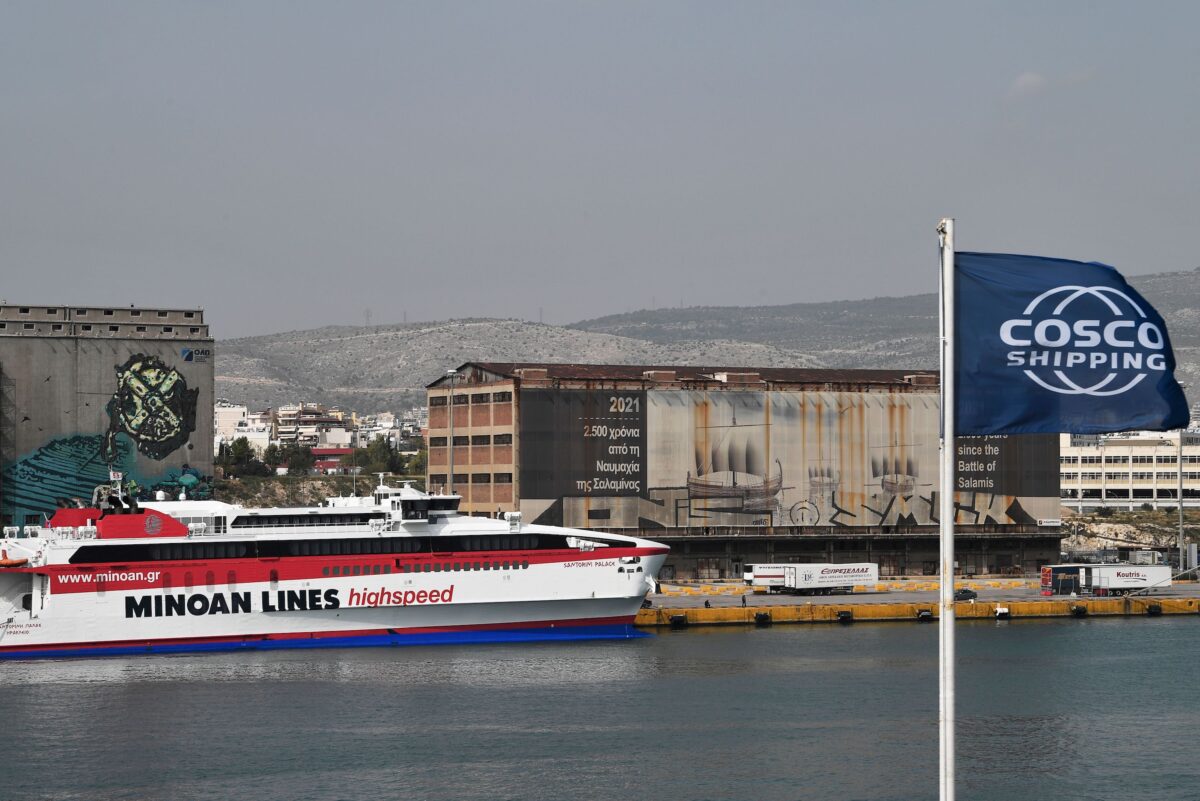 As Chinese state media Global Times eagerly reminds us, 2022 is a special year for Sino-Greek relations. It's now a half-century since the establishment of diplomatic relations between China and Greece. Since 1972, according to the report, "the two countries have forged a friendship and close cooperation in a wide range of fields, including investment, trade, tourism, and culture."
In 2006, the two countries signed the Integrated Strategic Partnership agreement. Then, in 2018, Greece became a member of China's Belt and Road Initiative (also known as "One Belt, One Road"). Greece, we're told, has aspirations of becoming the main hub between Asia and Central Europe.
As China Daily, another CCP-backed outlet, recently noted, China is heavily invested in ADMIE (also known as Independent Power Transmission Operator, or IPTO), a company that essentially operates, controls, and maintains Greece's power grid. The State Grid Corp. of China, a state-owned electric utility corporation, owns a large stake in ADMIE.
Banking appears to be another sector that interests China. In 2019, Bank of China, a state-owned bank headquartered in the heart of Beijing, set up shop in Athens. Interestingly, the bank also operates in countries including Australia, New Zealand, Germany, the United Kingdom, France, Canada, and even the United States.
In April, when asked if he was concerned about China's growing interest in his country, Nikos Dendias, Greece's foreign minister, appeared to be the very opposite of concerned. All Chinese investments, he insisted, adhere to EU rules. Adherence to rules isn't the point, Mr. Dendias.
The fact that Greece is fast becoming a Beijing-controlled puppet should concern all Greek citizens. In fact, it should concern all European citizens. Greece is a gateway to Europe. China's infiltration starts with Greece, but where does it end? Nowhere good, I imagine.
Views expressed in this article are the opinions of the author and do not necessarily reflect the views of The Epoch Times.