A group of Florida boaters spotted a large great white shark swimming next to their boat and got the close encounter on video.
"That is a great white, look at that, oh yeah," the boaters are heard saying as the great white comes toward their vessel.
It was captured by Hot Spots Charters about 13 miles from Pensacola Pass in Florida. It separates Santa Rosa Island and Florida.
"That is crazy!" a man says as it goes toward him.
Captain Tyler Massey told a local news outlet that he estimated the shark was about 10 feet in length.
Massey, who wasn't afraid, said everyone on the boat wanted to see more of the shark, so the boat tracked it.
"We followed him around for about five minutes. We were sitting there fishing in the spot and the shark just kind of swam up. He just hung out around the top," he told the Pensacola News Journal.
The shark didn't appear to mind the boat being so close, said the captain.
"He wasn't aggressive. He didn't seem interested in anything we were doing," Massey added. "He was just cruising."
"It was cool, everyone got a kick out of it for those five minutes or so," Massey explained. "We followed it around until we couldn't see it anymore. It went down and then we headed back to the pass."
'Close Encounter'
A commercial fisherman and his girlfriend saw a large great white shark last month lunging from the water to get a bait bag near the Florida Keys.
The shark was estimated to be about 15 feet in length, according to the Miami Herald.
"Oh my God," Suzy Grumbo, the girlfriend of Carter Bates, can be heard in the video.
The big shark emerged near Summerland Key on April 23 to get a taste of what was inside Bates's chum bag while Grumbo filmed it.
As of April 26, it had about 200,000 views on Facebook.
"I've certainly never seen anything like this before," she told the Miami Herald. "Yeah, it was definitely the most humbling experience I think I've ever come across," she added to NBC Miami. "It's like going from this small town girl to the girl with the great white shark, you know?"
Wow! A great white shark made a rare appearance in the Keys, taking a few bites from a fisherman's chum bag. Read more: https://hrld.us/2UBMVxb

Posted by Miami Herald on Wednesday, April 24, 2019
Bates said he worked as a commercial fisherman for about 10 years, and he added to the paper that he was fishing for yellowtail snapper.
The great white, he said, was circling their vessel for about three hours before it bit the chum bag.
Bates noted that the large fish didn't want the snapper that they had caught.
"It only wanted the chum block," the Herald quoted him as saying.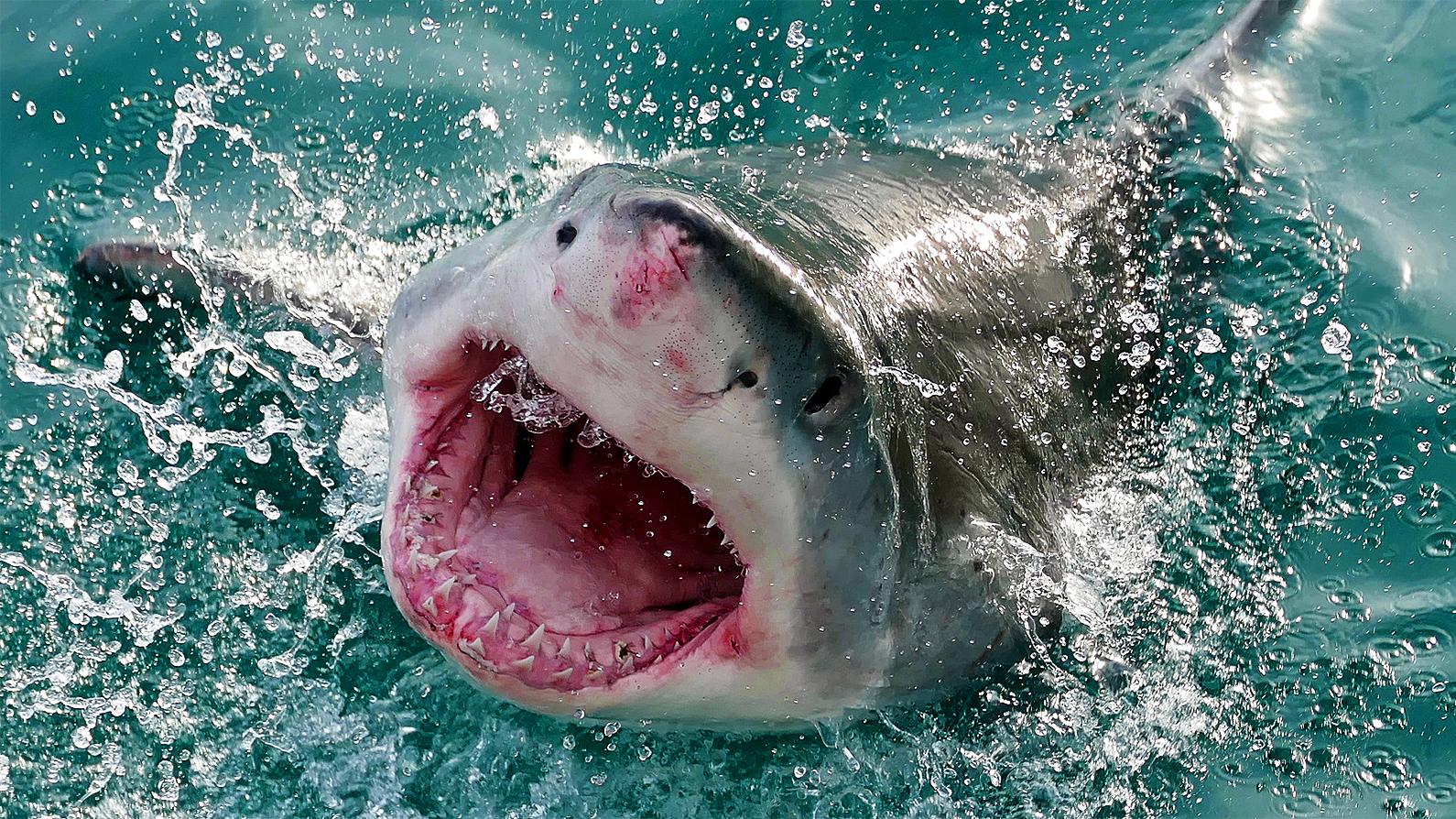 Great white sharks can grow more than 20 feet long and can weigh in excess of 5,000 pounds, according to National Geographic. They're the largest predatory fish in the sea and one of the largest predators on Earth, after sperm whales and killer whales.
"Of the 100-plus annual shark attacks worldwide, fully one-third to one-half are attributable to great whites," National Geographic says. "However, most of these are not fatal, and new research finds that great whites, who are naturally curious, are 'sample biting' then releasing their victims rather than preying on humans."
The U.S. National Park Service says great whites mostly prey on other large fish and marine mammals.
"Great white sharks are primarily a visual predator. They do have a sense of smell and a sense of hearing, but sight is the main sense they use when hunting. They have voracious appetites, feeding mostly on bony fish, rays, carrion, and other sharks at the beginning of their lives, then switching to marine mammals as they grow. Occasionally they will eat birds, turtles, invertebrates, or even garbage," it says.