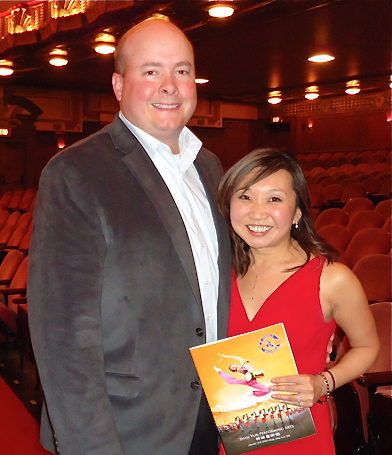 CHICAGO—"I thought the show was phenomenal," said professional dancer Anastacia Clapper, calling Shen Yun Performing Arts International Company the very best classical Chinese dance company.
"The synchronization of everyone and the artistic value was just amazing," Ms. Clapper, most recently with Ballet EntreNous, said.
Classical Chinese dance embodies China's rich cultural traditions, allowing the artists' movements to be deeply expressive; the personalities and feelings of characters can be portrayed with unparalleled clarity in a strikingly vivid way, according to the company's website.
Ms. Clapper, currently an implementation director for Human Resources with Kenexa came to Shen Yun with Greg Vosberg, a senior business executive at Aon Hewitt.
Mr. Vosberg said: "Very skilled—the dancers. We come to the ballet a lot. We go to see Joffrey quite a bit. The technical moves were very good. I don't think some of the people realized how difficult some of their moves are.
"I thought it was very well performed. Like I was telling [Ms. Clapper], it was so well choreographed and they are so in sych, that's rare to find here in America, to find 40 people on the stage who are exactly in tune like that. It's difficult to find that in the arts today. So I think it was a testament to their performance," he continued.
"Definitely a testament to their discipline, the performance, even the best ballet companies here," Ms. Clapper agreed.
"I've grown up doing ballet and so I can see the technicalities of the movement and it was interesting actually, the tumbling that originated out of the Chinese dance because it has become such a prominent part of modern companies here. But yes, the staging, the choreography, the expression and the light airiness of it. The dancers are just incredible," Ms. Clapper said.
"I definitely have an appreciation for the discipline and all of the training that goes into this in order to get to this level. So to get to the performance quality that they are able to exhibit and making it look so easy, that's the art in any type of dance, no matter what discipline, whether it's traditional Chinese ballet or dance or traditional classical ballet, it's to make it all look easy."
The professional dancer there were many times she wanted to clap.
"I'm just like—'that's amazing.' And they're spotting the floor and I don't know if this audience has necessarily the awareness of that. I think they're coming in more for the artistic value and kind of like the exhilaration of the performance itself which I understand."
She also recognized the difficulty involved in classical Chinese dance.
"The technicalities—this stuff is really difficult … I can recognize those … turns and the number in a row was just amazing and all of the leaps—we call them stag leaps and star jumps and the defying [of] gravity—the amount that they are able to leap off the floor. It was amazing and they make it look so easy and it's just like gravity isn't a problem to them.
"From a dancer's perspective, that's probably what I appreciated most—in addition to everything—all of the movement moving around the stage in a straight line is one of the hardest things [and] could be obstacles for dancers, especially this number, the quantity of dancers. To be able to stay that succinct and that precise was definitely the highest quality that I don't even think we see in America. So it's very refreshing and kind of exhilarating to see it," she said.
Accompanying the classical Chinese dancers are original compositions, played by Shen Yun's own touring orchestra comprised of both Chinese and Western instruments.
"The orchestra is pretty cool, too—the West and Eastern instruments together—that was pretty amazing," Mr. Vosberg said.
Reporting by Ying Wan and Sharon Kilarski.
Shen Yun Performing Arts, based in New York, has three touring companies that perform simultaneously around the world, with a mission to revive traditional Chinese culture. Shen Yun Performing Arts International Company will perform in Chicago through April 22.
For more information visit ShenYunPerformingArts.org