Grassroots Groups Spread Through Guangdong
July 15, 2013 6:00 am Last Updated: July 14, 2013 3:34 pm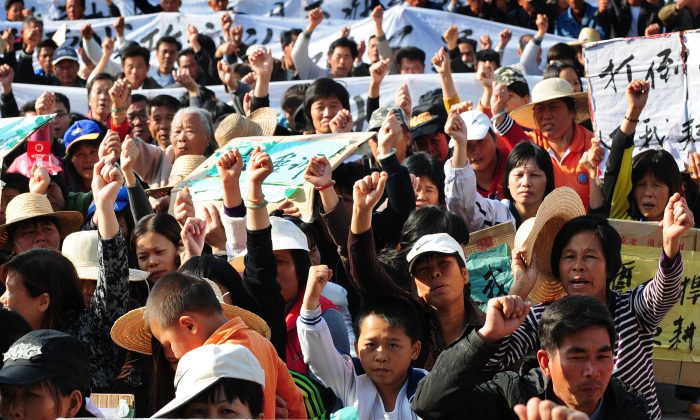 In recent years, fraternity organizations and other grassroots groups have been proliferating throughout the Guangdong region in southern China, causing nervousness within the local government.  
These local grassroots organizations are often not registered with the Ministry of Civil Affairs and carry more weight than the local village Party committee. They include youth associations, fraternities, sororities, or native-place associations, and members look out for the interests of each other and the local community. They also keep the village committee in check. Some interest groups for migrant workers are not limited by one's birthplace for membership.
Native-place associations have their origin in China during the late imperial period, when "huiguan" were established in urban areas for merchants from the same birthplace to share trade information, provide mutual assistance, and participate in local customs together in a place far from home. 
It is unclear exactly how many members these groups have amassed, or how many of these groups there are. 
In a report by the agriculture newspaper, Nanfang Nongcun Daily, a man who was identified as Ah Qiang said he was a member of a fraternity in Chengyue Township, Zhanjiang City in Guangdong Province. He is the principal of a local school and joined the fraternity because he felt it allowed friends to help each other in times of need. The Daily is a publication under one of China's more liberal-minded media organizations, the Nanfang Media Group.
Ah Qiang also said there are more than 10 groups similar to his fraternity that exist in the Chengyue Township. Some were founded more than 10 years ago and include local officials as its members.
An official from the public security bureau in Wuchuan City, Guangdong Province told the Daily that the leaders of some youth organizations have more say than the village committee leader, raising concern among local authorities that they have lost control over the population. This May, 56 youth organizations in Wuchuan City were banned by the local government, according to the Nanfang Nongcun Daily. 
The number of grassroots, non-governmental organizations in China has been on the rise. According to an article written by Tang Xinglin, professor at Shanghai Jiao Tong University's School of International and Public Affairs, official statistics indicate that there are over 400,000 registered organizations, and the number continues to rise 10 to 15 percent every year. 
A report by Hong Kong newspaper Mingpao Daily estimates that there are over 2.5 million organizations in China that are not registered with the Chinese state.
A Chinese official also told Mingpao Daily that there are at least 280 foreign organizations with activities in China, while many Chinese grassroots organizations seek to register in Hong Kong, where the government operates under a more liberal political system.
 
In an interview with Chinese-language broadcaster NTD Television, Chen Yongmiao, a scholar of the Chinese constitution, said the Chinese regime maintains tight control over grassroots organizations, treating them as an issue of domestic security and defense: "If the authorities believe it will endanger social safety or national security, they will not approve it. They approve groups like gardening clubs and bird clubs, not anything related to politics. Basically, welfare activists and welfare organizations, or groups that involve politics are very rarely approved."  
A researcher at the Institute of Sociology at the Chinese Academy of Social Sciences, Shan Guangnai, wrote in an editorial published in the Guangzhou newspaper, Southern Weekend, http://www.infzm.com/content/90129 that such grassroots organizations like native-place associations, fraternities, and village family clans serve as a major vehicle to mobilize citizens in "mass incidents," such as the 2011 large-scale protests in Wukan Village, Guangdong Province after local officials sold the villagers' land to real-estate developers without their approval. After organized protests by village clan groups, local officials allowed the villagers to hold elections for a new village committee.
 
Shan predicted that in the coming years, mass protests in China will become more organized.
Translation by Amy Lien and Rebecca Chen. Ariel Tian contributed research.