A woman pinched deep bruises into her one-year-old granddaughter's back while attempting a home remedy related to a healing method in Traditional Chinese Medicine (TCM), according to Chinese online news outlet Pear Videos.
The child was later sent to a hospital in Zhongshan City of China's southern Guangdong Province, according to the Aug. 30 report. The girl was already released from the hospital by the time of reporting, and had no serious injuries.
A doctor confirmed there are methods similar to what the grandmother used in TCM, but not in the form that was used on the girl.
Pinched, But No Cure
The girl was sent to the hospital because she had a fever, and at the same time was experiencing spasms. That's when the doctors saw the girl's back.
In the video, the girl's back can be seen covered in dark patches of what may be bruises.
A pediatrician surnamed Liu, who helped treat the girl, told Pear Videos that the grandparents were interested in traditional healing methods. "It was pinching, similar to gua sha," Liu said.
"Gua sha," also known as coining or kerokan is a TCM treatment done through scraping a layer of skin on the body. "Coining is a technique used in treating many illnesses since ancient times," according to The National Center for Biotechnology Information.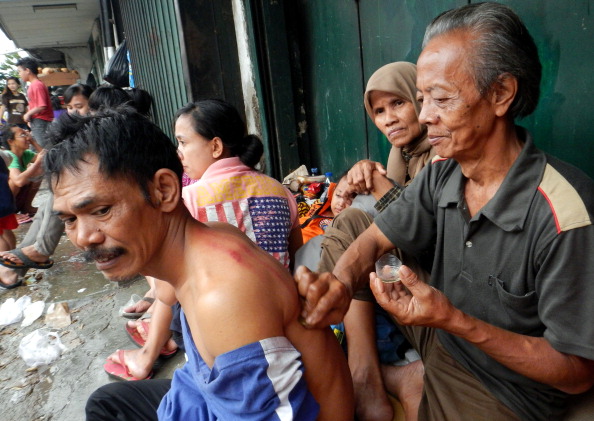 "Coining is performed by taking a hard object with a smooth edge such as a coin and rubbing it along the skin in a linear fashion until a bruise is present," according to Stanford Medicine. "This can be painful as the bigger the bruise, the more effective this practice is thought to be."
Liu emphasized that the young girl's skin was very soft and that the grandmother mostly just caused injury to the child because she may not have applied the treatment correctly. "In fact, it was just hurting the child," Liu told Pear Videos.
However, none of those injuries were serious, according to Pear Videos.
Modern TCM
In China, TCM is still frequently used, but may be far from its original form.
Modern TCM is the product of former Chinese regime leader Mao Zedong's later attempts to revive Chinese medicine after years of denigrating traditional knowledge. Mao led the merging of eastern and western medicinal practice during the Cultural Revolution, a reform which resulted in the creation of another kind of medicine.