A grandfather of the eight family members who were shot and killed in rural Ohio said that police are ignoring a possible motive for the grisly slayings.
On Friday, unknown gunmen shot an entire family to death in Piketon, Ohio.
Dana Rhoden, 37, as well as her children Christopher Rhoden, 16, Hanna Rhoden, 19, Clarence 'Frankie' Rhoden, 20, were among those killed on the family's property. Four other relatives were shot and killed—in the middle of the night as they were sleeping.
Marijuana found growing at several sites of Rhoden family massacre https://t.co/syT3nvPNGJ pic.twitter.com/Ogng0BcqxK

— RT America (@RT_America) April 25, 2016
Police said they have found evidence of a marijuana growth operation, including several hundred plants, and they said it's likely the Rhodens were involved in selling pot.
They also said the killings appear premeditated and well-organized. Authorities have speculated Mexican cartel involvement.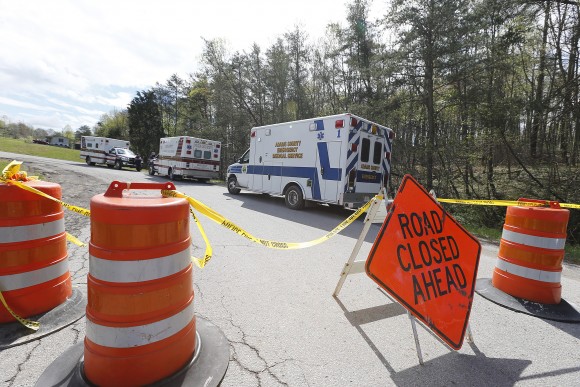 Fox News, meanwhile, reported that the family may have carried out an illegal cockfighting operation. Several roosters were being kept in cages.
Leonard Manley, the 64-year-old grandfather of Dana Rhoden, said police have overlooked a bizarre claim.
He said that is grandson, Christopher, was involved in a conflict a month ago with a woman on the highway, close to the family's home. The teen was "slapped by a woman," and his mother had also insisted that police file charges of assault at a court in Ohio.
'Ain't got no revenge in our hearts,' Ohio family says after killings: Leonard Manley tears up with mentions … https://t.co/JLt4cEwaVa

— Amanda Alverez (@AlverezAmanda) April 26, 2016
"They didn't want to hear nothing," he said, referring to how officials responded when he asked about the road rage incident.
"'I asked the sheriff's department about the incident that happened a month ago about my grandson when a 40-year-old woman…hit him in the face," he told MailOnline in an exclusive. "He had bruising all down his face."
Manley said his daughter, Dana, went to court but the case didn't result in convictions against the woman.
However, there were threats made to his daughter and his son, he added.
The threats were recorded via a cell phone and would be made available to investigators.
Officials release family tree of Rhoden family members killed in Pike Co. shootings | https://t.co/Fk3PwNPzuQ #10TV pic.twitter.com/TSR4qAoI7L

— 10TV.com (@10TV) April 25, 2016
Manley said that his family members weren't drug dealers. "I didn't know anything about it [drugs]. We were a loving family," he said. "My daughter would give you the shirt off her back. Everybody loved her. She didn't deserve this."
He added, "She loved her kids. She would have died for them. She worked everyday. The rest of the family [her children] all seemed to be good…but I don't know about the rest of them [the other victims]."
When police discovered pot plants and marijuana grow-ops, he was shocked. "I would fight anybody tooth or nail. My daughter's name is being dragged through the mud and I don't want it," Manley said.
#Breaking Names of all 8 victims in Rhoden family murders have been released https://t.co/4t1y6dhG1i pic.twitter.com/zhveWi9AOO

— WSYX ABC 6 (@wsyx6) April 23, 2016
Manley added: "If I have to, I am going to be find me a better lawyer to make them take their words back. I was shocked [when I heard about the drugs]."
But despite the discovery of marijuana plants, authorities haven't been able to confirm a motive for the crimes.
"Well, I think we can speculate what the motive was — you talk about revenge, you can talk about drug-related. But frankly, we just don't know," Ohio Attorney General Mike DeWine told NBC News.
DeWine said that police are aware of a threat that was made via Facebook to Christopher Rhoden Jr.
Pike County Sheriff Charles Reader told surviving members of the Rhoden family that they could very well be targets while the killer or killers are on the loose.
"I told them to be armed," he said.
He added that anyone in Pike County who feels threatened after the murders should arm themselves as well.
(H/T – IJReview)