The grandfather of an 18-month-old girl who fell to her death from the window of a cruise ship docked in San Juan, Puerto Rico, in July, has been charged with negligent homicide.
Salvatore Anello was charged on Oct. 28 in the death of his 18-month-old granddaughter Chloe, who dropped from an open window on the 11th floor of Royal Caribbean's Freedom of the Seas on July 17, and onto the concrete of the Pan American dock II.
In a statement in July, Michael Winkleman, an attorney for the child's family, said that Chloe asked her grandfather to bring her to the window of a children's play area because she wanted to bang on the window pane.
The toddler's grandfather was unaware that the window had been slid open when he lifted her up, the lawyer said.
"Chloe wanted to bang on the glass like she always did at her older brothers' hockey games," Winkleman said. "Her grandfather thought there was glass just like everywhere else, but there was not, and she was gone in an instant."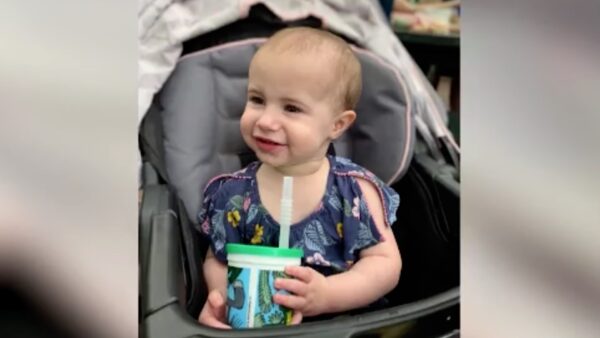 Chloe's parents, Alan and Kimberly, from Indiana, said they don't believe Anello should be blamed for her death, and the family is now seemingly holding Royal Caribbean responsible for her death.
Winkleman said: "I think Royal Caribbean needs to answer these questions: Why would you ever in a kid's play area put windows that passengers can open? I mean, we've all had that experience where someone walks into a glass sliding door thinking it's not there."
"This is the inverse of that. It was reasonable for Sam the grandfather to think that this was all glass because from his perspective, it was all glass."
In July, the girl's mother, a former deputy prosecutor for St. Joseph County, told NBC's "Today" show her family blames the cruise line.
"We have a lot of questions. Why is there an open window in the kids' area 11 stories up?" Kimberley asked.
She was told by the cruise line the window was open for "ventilation" reasons.

In a statement on Monday, Winkleman said the family plans to file a lawsuit against Royal Caribbean, adding that Anello's charge is like "pouring salt on the open wounds of this grieving family," reported BuzzFeed News.
"Clearly, this was a tragic accident and the family's singular goal remains for something like this to never happen again," Winkleman said. "Had the cruise lines simply followed proper safety guidelines for windows, this accident likely would never have happened."
Royal Caribbean previously released a statement about the girl's death.
"We are deeply saddened by yesterday's tragic incident, and our hearts go out to the family. We've made our Care Team available to assist the family with any resources they need. Out of respect for their privacy, we do not plan to comment further on the incident," the statement read.
Anello is being held on $80,000 bond and is scheduled for a court hearing on Nov. 20.