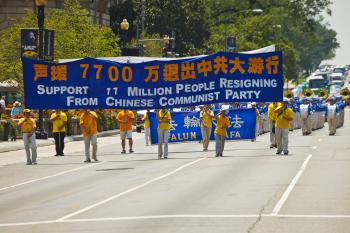 WASHINGTON – Thousands of Falun Gong (also known as Falun Dafa) practitioners from around the globe gathered in Washington, D.C. on July 22-23 for peaceful protests against the 11-year persecution of Falun Gong by the Chinese Communist Party (CCP).
Around three thousand practitioners marched near the White House for nearly a mile and a half in a parade themed: "The persecution can only be stopped by disintegrating the CCP," on July 23.
After 11 years of persecution by the CCP aimed at destroying the benign practice, Falun Gong has not been eliminated in China. Instead, whilst peacefully resisting the brutal persecution in China, Falun Gong further spread to 114 nations around the world.

The parade procession started with the two hundred plus member Heavenly Marching Band, performing one peaceful song after another that echoed across Constitution Ave. Next came hundreds of Falun Gong practitioners dressed in white carrying solemnly decorated pictures of fellow practitioners who were persecuted to death by the CCP.
Following them were hundreds of practitioners carrying banners saying, "Falun Dafa is good," "The world needs Truthfulness, Compassion and Forbearance," and "The persecution can only be stopped by disintegrating the CCP."
In 100 degree Farenheit temperature, the parade procession started at the Washington Monument, passed through Constitution Avenue, 14th Street, K Street, and arrived at Farragut Square. The procession stretched across more than ten city blocks near the White House. The grand march caught the attention of thousands of people who stopped to watch.