Graffiti Needs a Playground
July 21, 2011 3:57 pm Last Updated: September 29, 2015 6:44 pm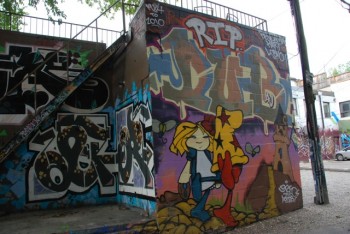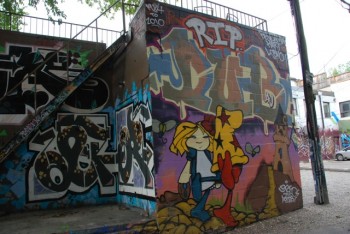 "Graffiti Alley" isn't a classy art gallery. It smells like the ventilation from a dodgy restaurant, and each time one of its often eerily painted doors open, you can't help but worry about what is about to emerge. Especially at night.
But as far as graffiti goes, it's the mecca, and currently the only space exempt from a new plan by Toronto mayor Rob Ford that has some worried about the future of Toronto's street art.
The alley, which runs behind the buildings on the south side of Queen Street west of Spadina, has even become a tourist attraction. Visitors document their trip on flicker and travel blogs, taking pages of pictures of the colourful collaborative works that adorn the alley's walls.
What is vandalism to some is a welcome burst of colour and creativity to others. That's why Ford's Graffiti Management Plan has stirred up a decades-old debate on the meaning of art and vandalism and has raised concerns from business owners and graffiti artists alike.
The Plan
Last week, the City of Toronto adopted Ford's plan, which has been causing some graffiti artists to show their disapproval on walls. The city will create a central body responsible for dealing with all graffiti-related affairs. At the same time a digital database will be compiled to document all legal murals that should be exempt from washing.
To address the concerns of those who see graffiti as vandalism, the new plan is expected to aggressively tackle Toronto's walls, which was one of Ford's promises during the election.
In response, graffiti depictions of Mayor Ford have already sprung up on buildings around Toronto, few of them flattering.
For those who see graffiti as art, Ford's plan calls for underprivileged kids to work with graffiti artists and community groups to create public murals to beautify the city and discourage taggers.
Buildings Are Property
But not everyone is thrilled about the plan to foster graffiti mural with the help of youth. Amy Chow, a restaurant owner on Danforth, is concerned that not every property owner would support offering a side of their building as a canvas.
"It is a bit of a difficult situation because there are businesses that pay a lot of money to have a clean building, and it does affect property value as well." Chow said.
Currently the city bylaw stipulates that if property owners don't get illegal graffiti removed from their walls the city can wash the building and bill the owner for the service.
And some businesses like it that way. Although some passersby may find the sprayed-on murals a colourful addition to a grey city landscape, the owners of those buildings might disagree, said Chow.
"Something I may perceive as art may not be another person's perception of what art actually is," she said.

Graffiti Is Art
But according to Paula Gonzalez, a muralist in Toronto, many local Business Improvement Areas are accommodating when it comes to murals. In 1997 she initiated a program for the youth at the Christie Ossington neighbourhood in the west end of Toronto. The program brought property owners and business associations together to identify walls available for murals. Fourteen years later, the program is still strong and running.
"In my experience it is a thousand percent positive experience to have people come together, develop an idea together, go through that creative process and then have it on a piece of paper and put in on a wall," Gonzalez said.
There are many kinds of graffiti. The Islington Mosaic murals on Dundas St. in the Village of Islington BIA are a tribute to the area's history, recognized public art that adds value to the property and the neighbourhood around it.
Then there are the stylized graffiti fonts that originated from New York City. According to Gonzalez, the fonts do have an element of vandalism in them but it is not the case in Toronto as it was for New York.
"Toronto is not New York," Gonzalez said.
But no matter what the case is, the city's graffiti bylaw refers to any graffiti as illegal and an unwelcome defacement of property and counts it as vandalism. It devalues property and can range from carefully painted works to ugly scrawls known as "tags."
And while cleaning up some of those lesser works might clean up the city, Ford's plan could see a backlash from the graffiti community if the program wipes out respected works.
For the past four years, freelance photographer Scott Snider has captured hundreds of Toronto graffiti works on camera.
"The tagging stuff I think has gotten a little out of hand," he said. But it wasn't always like that. People who spray graffiti used to have an unofficial code about the areas they would not touch, Snider said. But with the rigorous wall-cleaning campaign, taggers and other artists have begun to ignore those boundaries.
The Pulse of the City
Graffiti can be seen as more than just paint on bricks, according to researcher Saeed Hydaralli at the Culture of Cities Centre in Toronto. He believes graffiti could show the state of socioeconomic and political life of the city—in other words, "the pulse of a demographic."
"Graffiti could tell us about the city–the life of its residents," Hydaralli said.
"We need to read it, make sense of it, and respond to it."
In Hydaralli's eyes, if graffiti is like a symptom; it can be used to measure the frustration of a certain community and uncover problems.
And if Toronto has an "appetite" for graffiti, Hydaralli said the city might have to accommodate to the demand.
Which could make those murals just the thing for artists looking for a place to hang their work.