After six hours of racing at Mazda Raceway Laguna Seca, Muscle Milk Pickett Racing won the American Le Mans Series Monterey by a comfortable margin of three laps after rivals Dyson racing were stricken with handling and mechanical problems.
Muscle Milk HPD drivers Klaus Graf and Lucas Luhr was never really challenged by the Dyson Lola Mazda, which was off the pace all weekend and spent a lot of time in the pits.
In P2, a really exciting race between the two Level 5 HPDs and the Conquest Endurance Morgan Nissan ended several laps early when the Conquest Morgan had an electrical failure.
GTC went to TRG's Jeroen Bleekemolen, who held the lead through the final hour after finally getting past Michael Avenatti and Cort Wagner in the Competition Motorsports Porsche, who eneded up third behind GMG's car.
GT and PC were decided in the final green-flag stint with 15 minutes to go in the race.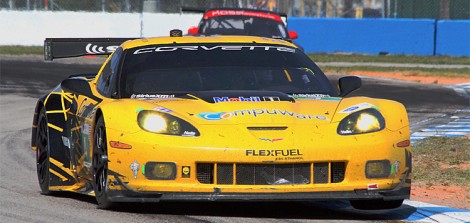 Corvette finished one-two in GT on the strength of some incredibly skilled/borderline crazy passing maneuvers by Jan Magnusson. Bill Auberlen nearly took second in class on the last corner—which he negotiated sideways—but Mags held onto the position, finishing right behind teammate Olly Gavin, who won at Long Beach as well.
Scott Sharp in the ESM Ferrari finished second behind Joey Hand in the second BMW, two seconds ahead of Jörg Bergemister's #45 Flying Lizard Porsche, who was another two seconds ahead of Wolf Henzler in the Falken Time Porsche.
The entire second half of the race was about that close, with the top five or six GT cars lapping nose-to-tail and making
PC was a fight, literally, and plenty of penalties were assessed, but in the final minutes Colin Braun of Core Autosport pushed past Bruno Junqueira in the RSR Oreca, who barely stayed ahead of Tom Kimber-Smith in the second Core car.
All three had to work their way past Kyle Marcelli in the Merchant Services car in the final eight minutes; Marcelli finally came together with Kimber-Smith and ended up in the gravel with five minutes left in the race, finishing fifth in class. The top three cars finished with 1.73 seconds.
Next: Results