A well-known IT professional in China recently suggested on social media that job applicants could pay employers to get work, and addressed the nation's youth unemployment issue.
The suggestion attracted significant attention and criticism, as similar practices already exist in China's IT industry— where graduates pay companies off the books to intern.
The IT professional, who goes by the name "Diade Technology," posted on Weibo on May 29: "China's economy in 2022 is facing two major problems: one is that more than 10-million new college graduates need to find jobs; the other is that small and medium-sized enterprises are struggling to stay afloat. I just thought of a way to solve these two problems, it's actually very simple: just make college students pay the companies to work there. The graduates can get training from their employers, which is well worth the money they pay the companies. In this way, the companies can get cash from it to help their operation, and college students also get employed. One stone, two birds."
The suggestion immediately met with public criticism. A post on social media read, "It's more cruel than what the worst employer could do." Another netizen questioned in a post, "Then where do I get the money to pay my boss every month to keep me employed? From my parents?"
The original post by "Diade Technology" has subsequently been blocked but screenshots of it have been reposted and continue to circulate on the internet.
This year, 10.76 million students will graduate from Chinese universities in July in a declining economy caused by the ruling Chinese Communist Party's (CCP) mass lockdowns—the number is 1.67 million more than in 2021, setting a new record. Meanwhile, the officially released unemployment rate for China's youth, aged between 16 to 24, has been increasing, also hitting a record high this year at 18.2 percent in April. It is twice that of European and American countries. It is also 46 percent higher than that of Taiwan. The number doesn't include the college students who will graduate in July.

In the face of a worsening economic situation under the CCP's "zero-COVID" policy, it is expected to be especially difficult for the college students to find work this year.
The heated discussion on the "pay to work" suggestion has also extended to the unofficial internship arrangements in IT.
Due to increasing difficulties in finding a job, more and more college graduates in recent years have had to pay big IT companies to get an internship, hoping that an "internship" at a famous company will help them find a job in the industry in the future or get into graduate schools in western universities.
Many netizens revealed on social media that the practice has generated a new market. The price of a remote internship is about 7,000 yuan to 20,000 yuan ($900-$3,000) per month, while an in-person internship costs 20,000 yuan to 35,000 yuan ($3,000-$5,250) per month. The internships usually last for just a month. The price is higher for a longer period. People who pay to get this kind of internship are not considered formal interns by companies and are off the books.

Netizen "Bruce" said in a post that there are brokers charging money for setting up such internships between college graduates and the IT companies who want to make extra money from the "interns."
"They understand the students' thinking very well: 'You are from an unknown college. If you don't pay, how can you get an internship in a big company?'"
Other netizens warned that such "bought internships" wouldn't be recognized when they apply for a real job, believing that the brokers are just cheating money out of students desperate to find a job.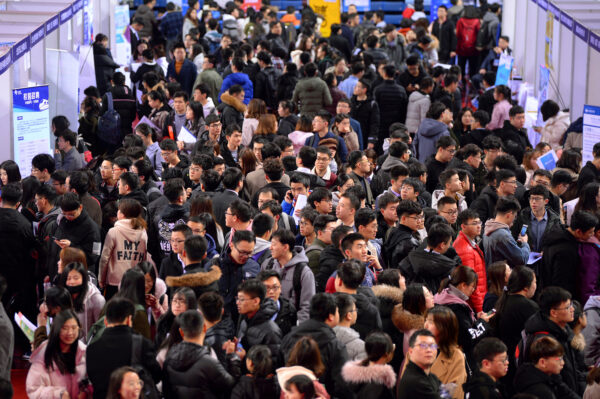 Experts have pointed out that there are likely legal issues involved.
Liao Chenglin, a doctoral supervisor at the School of Economics and Business Administration of Chongqing University and a member of the China Marketing Society, told mainland Chinese media on June 6 that the suggestion was a misconception of the meaning of employment.
"This so-called 'pay employers to work' is playing a word game, work is work, and responsibilities and rights are very clear. [The suggestion] and the practice, they are basically that people are paying the companies money to buy a kind of skills training, which is not considered employment at all," he said.
He Tongyu, a lawyer from Chongqing Lejun Law Firm, said that when an employer and an individual sign a labor contract to establish an employment relationship, if the employer does not pay the employee salary, but instead charges the employee money for the position, it's breaking the law.
"However, if the two parties agree on the terms through a contract, then it is not illegal. Of course, workers will not sign agreements that are not beneficial to themselves. If no one wants to do it, then there is no market, so it won't be implemented," he said.
Xia Song contributed to the report.