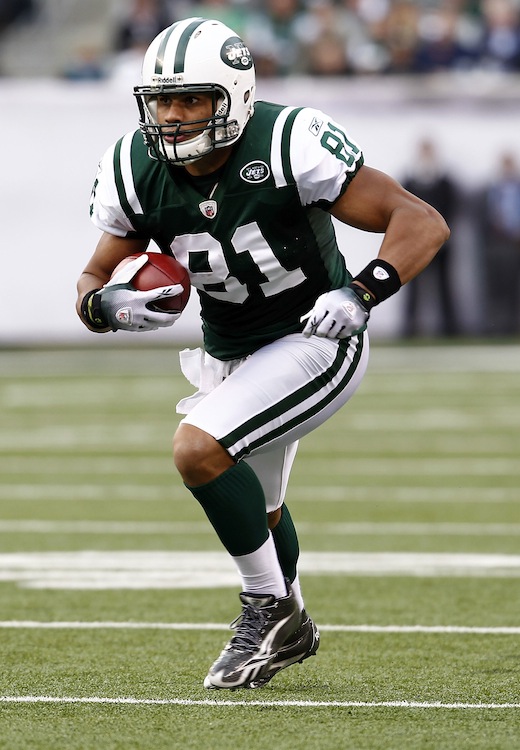 To say that next week's NFL draft is big for the Jets would be an understatement. The team showed some glaring weaknesses in finishing a disappointing 2012 season at 8–8.
The Jets have a whopping 10 picks this year with which to restock the team with talent. How they will do is anybody's guess, but looking back at recent drafts may show us how capable they have been in the past.
So with the benefit of hindsight, we'll start by looking at the 2008 draft.
First round, sixth overall selection: Vernon Gholston, DE from Ohio State—One of the Jets biggest draft blunders ever, Gholston was an NFL combine-tease who was big, strong, and fast. Had the Jets been fielding a track and field team he would have been a great pick—but they weren't. Gholston was put in the starting lineup just five times in three years before being released prior to the 2011 season. He didn't play for anyone last year. Grade: F
Who else was available: RB Chris Johnson, OT Ryan Clady
First round, 30th overall selection: Dustin Keller, TE from Purdue—Keller's receptions and yards have gone up each of the past three years, culminating in last year's team-leading 65 catches and 815 yards. His blocking is the only thing keeping him from Pro Bowl/All-Pro status. Grade: B+
Who else was available: RB Ray Rice, WR DeSean Jackson
Note: The Jets traded their second- and fourth-round selections to Green Bay for the first-round pick they used on Keller. New York traded its third- and fifth-round picks to Carolina for DT Kris Jenkins and received a fourth-round pick (and a conditional one in 2009) from New Orleans for LB Jonathan Vilma. The Jets traded their fourth-round pick to Green Bay for a fourth-round pick and a fifth-rounder.
Fourth round, 113th overall selection: Dwight Lowery, CB from San Jose State—Lowery started 18 games over three seasons for the Jets before going to Jacksonville last year and starting 11 games for the Jaguars. For a fourth-round pick a borderline starter is decent value. Grade: B
Who else was available: RB Tim Hightower
Fifth round, 162nd overall selection: Erik Ainge, QB from Tennessee—After a stellar college career as a Volunteer Ainge never made the team and has never taken an NFL snap. Grade: F
Who else was available: T Carl Nicks
Sixth round, 171st overall selection: Marcus Henry, WR from Kansas—Henry, like Ainge, never made the team and hasn't yet played in the NFL, one of 10 picks in that round that never saw the field. Grade: D-
Who else was available: WR Pierre Garcon
Seventh round, 211th overall selection: Nate Garner, T from Arkansas—Garner never played for the Jets but in 2009 and 2011 he was in all 16 games for Miami, starting nine of them at guard. A good value pick in the seventh round, though the Jets didn't benefit from it. Grade: B
Who else was available: RB Peyton Hillis
Synopsis: Getting little production out of Gholston killed this draft for the Jets.