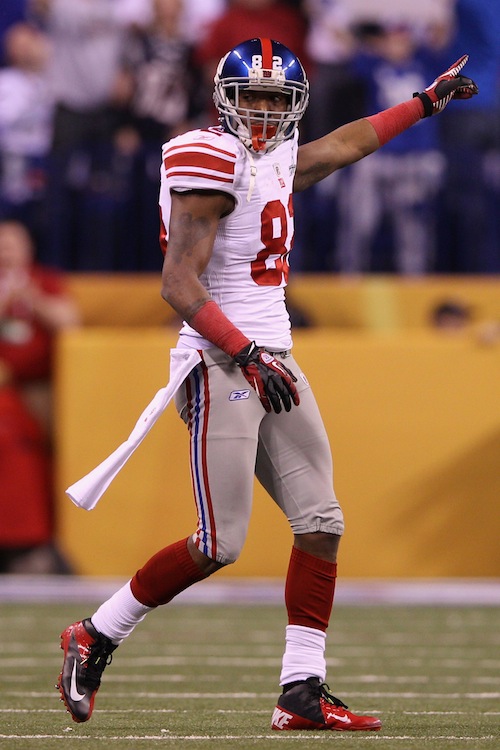 With the 2012 NFL draft on tap next week the Super Bowl Champion Giants have a few gaps to fill with their eight picks.
Gone is running back Brandon Jacobs and wide receiver Mario Manningham. Both signed with San Francisco. Who the Giants will draft remains to be seen, but how good the Giants have been at drafting can be evaluated a few years down the road.
With the benefit of hindsight we'll look back and grade their 2008 draft:
First round, 31st overall selection: Kenny Phillips, DB from Miami (Florida)—Phillips has started 35 games over the last four years, including 30 the last two years at safety. Not a star player, though he missed most of 2009 after undergoing microfracture surgery on his knee, Phillips ranked 10th in the NFL in fumble recoveries with three in 2010. Grade: C-
Who else was available: RB Matt Forte (Pro Bowl appearance in 2011), WR Jordy Nelson (1,263 yards receiving last year, 15 TDs)
Second round, 63rd overall selection: Terrell Thomas, DB from USC—Thomas was another up and coming player for the Giants who lost a season (2011) to injury. Expected to start at corner he spent the Super Bowl-winning season rehabbing his knee after tearing his ACL in August. Grade: B-
Who else was available: TE Jermichael Finley (767 receiving yards last year), RB Jamaal Charles (All-Pro in 2010)
Third round, 95th overall selection: Mario Manningham, WR from Michigan—Manningham has averaged roughly 50 catches and 750 receiving yards the past three seasons for the Giants and was huge in the Super Bowl. He is one of the better finds in that round. Grade: A-
Who else was available: No one of note.
Fourth round, 123rd overall selection: Bryan Kehl, LB from BYU—This pick didn't work to well for New York. Kehl has played sparingly in four total seasons with the Giants and then Rams starting 5 of the 59 games he's played in. Grade: D-
Who else was available: CB Brandon Carr (four-year starter for the Chiefs)
Fifth round, 165th overall selection: Jonathan Goff, LB from Vanderbilt—Goff became the starting middle linebacker in 2010 and would have continued in that position in 2011 had it not been for a torn ACL suffered before the season. As it stands, finding a starting linebacker in the fifth round takes a keen eye. Grade: B+
Who else was available: C John Sullivan (three-year starter for the Vikings)
Sixth round, 198th overall selection: Andre Woodson, QB from Kentucky—Woodson didn't make the team and has never played a game in the NFL, though a number of players in the last two rounds never made the pros either. Grade: D-
Who else was available: WR Steve Johnson (back-to-back 1,000-yard receiving seasons for Buffalo)
Note: The Giants traded never-used RB Ryan Grant to Green Bay for a sixth round pick, prior to the season. Grant went on to have back-to-back 1,200-yard rushing seasons with the Packers. It is fair to say that this trade didn't work for New York at all.
Sixth round, 199th overall: Robert Henderson, DE from Southern Miss—Henderson, like Woodson before him didn't make the team and has never played in the NFL. Grade: D-
Who else was available: QB Matt Flynn (Aaron Rodgers understudy who just signed a $19 million contract with Seattle)
Synopsis: Had it not been for injuries this would have been a good draft haul by the Giants. Considering the champs had picks at the end of every round it's still a solid class though.