Government Jobs Become Hot in China
August 31, 2012 1:29 am Last Updated: October 1, 2015 12:28 pm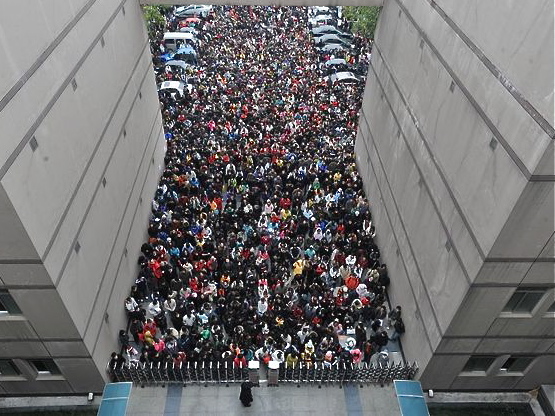 Chinese government jobs are becoming increasingly popular these days. According to a report from ChinaHR.com on Aug. 21, college graduates top job choice has shifted from the financial sector to government jobs.
Last year the state-run China Central TV reported that close to one million applicants took part in the exam to compete for 20,000 government positions. That means only one out of 50 applicants will be selected, a four-year high for the ratio of applicants to new government jobs.
China Radio International said in a report that government jobs are hot because they are more stable, and include all sorts of perks, including extensive benefits, bonuses, and being able to spend public money on eating and traveling. If you include all these perks, the income is actually higher than that of an average worker.

Benefits
A typical example is Zhao Xinjie who worked in a government agency directly affiliated with the central government. His salary is not high, but in times of inflation and rising housing prices, the non-monetary benefits are what counts.
According to a Southern Weekly report in March 2011, when Zhao invited his old classmates to his new residence in Beijing, they reacted with feelings of envy, jealousy, and hatred.
Zhao's 90 square meter (approximately 970 square feet) apartment was purchased in 2009 for less than 300,000 yuan (US$47,257). By March 2011, however, it had increased to around 1,800,000 yuan (US$283,376). His classmates, who have non-government jobs, could not afford to buy an apartment in Beijing.
The report also said that the cafeteria in Zhao's work place offers a wide variety of food, but the lunch buffet costs only one yuan ($0.15).
Zhenzhou Evening News researched this phenomenon of subsidized funding and explored several cafeterias and dining halls in some government organizations or state-owned enterprises (SOE's).
The paper found that even employees at the ministerial level with decent salaries pay only one or two yuan for lunch at the cafeteria. The cafeteria of the National People's Congress even offers lunch for free.

Holidays
Various "hidden benefits" of government employees and SOE employees were portrayed in an Aug. 14 report by China Economic Weekly, a subsidiary of the Communist Party-mouthpiece People's Daily.
For example, a regular worker at a SOE in Shanghai gets 6,000 yuan ($945) travel benefits each year, but the average wage in Shanghai is only $682 per month. This added benefit is therefore roughly equivalent to an extra 1.5 months in salary.
A deputy director of a county bureau in Henan Province said that each month bureau-level officials are awarded 3,000 yuan (US$473) of fuel benefits, close to what the average urban worker makes per month.
A SOE employee in Beijing said that in his work place, "there are holiday allowances for every holiday."
The report also said that in Beijing, the living quarters for employees at government agencies and SOE's can save employees anywhere from 1,000 yuan ($158) to 3,000 yuan ($473) rent each month. If one is allotted an apartment from the work place, the savings could be over one million yuan ($157,503), the price one would have to pay for buying an apartment.

Costs
These lavish perks boost employment cost to the government: The Economic Observer News in April, 2010 cites research conducted by Zhou Tianyong, Deputy Director of the Research Office at the Central Party School, showing that 44 percent of government spending was devoted to government employees in 2007.
Contrasting this prosperous picture with the general working public, prominent Chinese economist He Qinglian wrote in July that no matter how hard life is for the average Chinese during an economic downturn, the government won't endure any hardship at all.
China currently has the world's second largest GDP with impressive economic growth. However, according to Ms. He's research, government expenditure eats up one third of the GDP; the majority of the economic growth is used to "feed" government employees.
To better understand this dynamic, it is worthwhile to dig deeper into current policy directives: The Chinese government has a spending category called the "three public expenditures," which refers to spending on official hospitality, international tours, use of government vehicles and similar perks.
According to information gathered by Ms. He from different sources, in 2006 these line items totaled 900 billion yuan (US$142 billion), about 30 percent of the central government's tax revenues. In 2009, 1.9 trillion yuan (US$299 billion), or 60 percent of all the administrative cost, was spent on the "three public expenditures."
Ms. He concludes that as the number of government employees increases, a bigger piece of GDP will be used up and eventually it will have a negative effect on China's economic growth, as the spending is not productive.
Professor Frank Xie from University of South Carolina Aiken School of Business wrote that there's a strange phenomenon in China's economy now: Government jobs are hot, but businesses in other sectors have a hard time recruiting people. Government employees, who are known for having very low productivity, are enjoying higher benefits than non-government workers who are productive.
The Epoch Times publishes in 35 countries and in 19 languages. Subscribe to our e-newsletter.
Click www.ept.ms/ccp-crisis to read about the most recent developments in the ongoing crisis within the Chinese communist regime. In this special topic, we provide readers with the necessary context to understand the situation. Get the RSS feed. Who are the Major Players?