Gov. Gavin Newsom announced on Feb. 13 that 10 travel trailers are being set up as temporary housing for homeless families in South Los Angeles—the same day that federal Housing and Urban Development (HUD) Secretary Ben Carson was in town to speak about the homelessness crisis and promise federal help.
While the Trump administration and Newsom have often been at odds on the issue of homelessness, Carson's visit promised greater cooperation with California on the issue.
First Wave of Trailers
The California Department of Transportation (CalTrans) delivered the trailers as part of the state's emergency response to the homelessness crisis. Another 20 trailers are slated for delivery in L.A. later this month, and dozens more will be sent to other counties across the state in coming weeks.
"California is treating homelessness like the emergency it is and it's going to take every level of government stepping up to do their part," Newsom said in a media release.
"State government is doing more than ever before to combat homelessness. This first wave of trailers to Los Angeles County is part of our state's broader effort to deploy more resources directly into communities. I appreciate L.A. County leaders for providing land and putting these critically-needed resources to work," Newsom said.
Street outreach teams from St. Joseph Center helped choose families with children currently living on the streets, in cars, dilapidated RVs, or in rented motel rooms to move into the trailers on the weekend.
The trailers each consist of a bedroom, bathroom, kitchen and dining area, and other amenities, and are connected to electricity, water, and sewage. They were previously used to house first responders to the 2018 Camp Fire in Northern California's Butte County.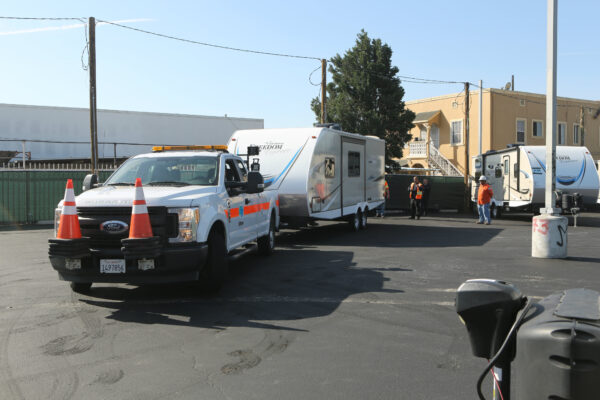 Los Angeles County Supervisor Mark Ridley-Thomas, co-chair of the Governor's Council of Regional Homeless Advisors, applauded Newsom's actions.
"Where there's a will, there's a way. Just over three weeks after identifying a site for the trailers, we have the manifestation of collective civic action … This is what a crisis response can and should look like," he said.
Bipartisan Cooperation
Meanwhile, Carson spoke at the Unhoused summit co-hosted by the USC Schwarzenegger Institute for State and Global Policy and the USC Sol Price Center for Innovation. Former governors Arnold Schwarzenegger and Gray Davis and several mayors, including L.A.'s Democratic mayor, Eric Garcetti, attended the symposium.
Carson was in Southern California as part of his Driving Affordable Housing Across America bus tour, which calls for bipartisan cooperation to solve the homeless crisis.
The bus tour, expected to run through June, is part of Carson's work as the chairman of the White House Council on Eliminating Regulatory Barriers to Affordable Housing.
In a speech, Carson praised the Schwarzenegger Institute's "noble mission" as one that all Americans should live by.
"That we should focus on good policies instead of on good politics. That we should promote promise and potential over parties and poll numbers. And, most importantly, that we have to put people first. And perhaps, no single issue is more central to peoples' prospects for a better life than having a safe, quality, affordable place to call home."

Carson later met with Garcetti at the Getty House, where they announced the creation of a joint working group to determine how federal funds will be spent in the city and county.
On Feb. 14, Carson visited Carmelitos Public Housing Development and announced a $20 million investment in nine public housing agencies (PHA) to help public housing families increase their earned income and become self-sufficient.
"HUD is committed to empowering public housing residents with new educational and economic tools to improve self-sufficiency," Carson said in a statement.
The promises of federal funds and bipartisan cooperation between the Republican Trump administration and California's Democrats represents a stark change from last fall.
Trump Versus California on Homelessness
In September 2019, Newsom and other elected Democrats wrote to Trump asking for federal funds for homeless programs, and their request was met with a scathing response from HUD.
"President Donald J. Trump has asked me to respond on his behalf to your letter," Carson wrote at the time. "Your letter seeks more federal dollars for California from hardworking American taxpayers but fails to admit that your State and local policies have played a major role in creating the current crisis."
Among the policy points blasted in the letter were the "overregulated housing market" and the power taken from law enforcement to connect "our most vulnerable populations with the supportive services they need to get off the streets."
Trump has repeatedly criticized California-based Democrats, including House Speaker Nancy Pelosi, U.S. Rep. Adam Schiff, and Newsom for spending too much time on impeachment "nonsense," while neglecting serious problems such as drug abuse and homelessness in their home districts.
He has frequently pointed to California's growing homeless population as a sign that progressive policies are failing in the Democratic-controlled state.
The letter summarized the extent of the homelessness problem in the state: "Almost half of all unsheltered homeless people in the United States are in California, a level about four times as high as California's share of the overall U.S. population. Los Angeles, alone, is home to 19 percent of the nation's unsheltered homeless," Carson wrote.
"Leaving California's homeless unsheltered, unhealthy, and unsafe is a human tragedy and unacceptable."
While the letter stated that, "California cannot spend its way out of this problem using Federal funds," it ended by saying that if California steps up its commitment to addressing the problem, HUD is ready to help."
Newsom Steps Up Efforts to Help Homeless
On Dec. 4, 2019, Newsom stated he had released $650 million in state emergency homeless aid, $64.3 million of which was earmarked for L.A. County. The funds are part of a $1 billion pledge to fight homelessness. He's challenged cities and counties to partner with the state to come up with immediate solutions to the homelessness crisis.

The next day, Newsom sent a letter to President Donald Trump again asking for federal aid, stating, " … California cannot solve this national emergency alone. All levels of government—local, state, and federal—need to put skin in the game. It is critical that you provide the emergency housing aid to confront this crisis."
Meanwhile, state Sen. Brian Jones (R-Santee) has recently called for the Joint Legislative Audit Committee to conduct a statewide audit of homelessness spending in California.