Texas Gov. Greg Abbott has said that as a result of being "misled" by local authorities, he gave the public inaccurate information about the massacre of school children at Robb Elementary School.
"I was misled. I am livid about what happened," Abbott said at a press conference in Uvalde on Friday, after two days of conflicting reports that have generated confusion about the events.
The governor said that at a press conference a few days prior, he gave the public a "recitation of what" law enforcement and other officials told him about the shooting that left 19 children and two teachers dead, and at least 17 others injured, on May 24.
However, it has since come to light that a school security officer had not confronted the shooter outside the school, in contrast to what was previously reported.
At a press conference on May 26 at Robb Elementary, an official from the Texas Department of Public Safety, South Texas regional director Victor Escalon, said that the shooter appeared to have walked unobstructed into a school building before the attack.
"As everybody has learned, the information that I was given, turned out, in part, to be inaccurate. And I'm absolutely livid about that," the governor said upon return to Uvalde a few days after his last visit.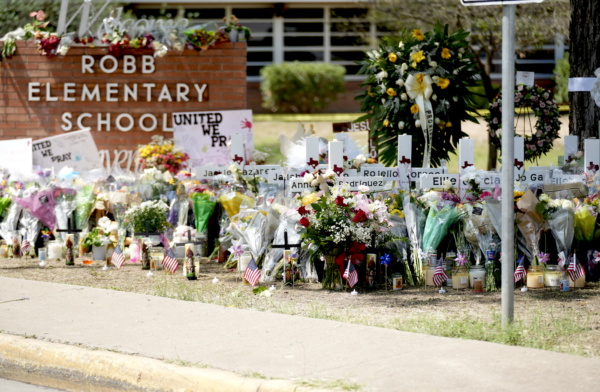 Abbott laid out his expectation for law enforcement, including the Texas Rangers and the FBI, to be able to account for "the very seconds of exactly what happened with 100 percent accuracy" and certainty for the sake of the grieving families, community, and public.
"There are people who deserve answers the most, and those are the families whose lives have been destroyed. They need answers that are accurate, and it is inexcusable that they may have suffered from any inaccurate information whatsoever," Abbott said.
At a prior press conference, Abbott had said that officers with the Consolidated Independent School District "approached the gunman and engaged with the gunman" outside the school building.
"The gunman then entered a back door and then went down two short hallways and then into a classroom on the left-hand side," he added.
However, it is now known that at approximately 11:30 a.m., the shooter arrived at the school and fired rounds at the school, according to Texas DPS spokesman Lt. Chris Olivarez, who spoke to CBS News on May 25.
The school resource officer—initially said to have confronted the shooter, then reported not to be on campus—actually confronted a person, but it was a teacher, not the suspect, according to Texas Department of Public Safety Director Steve McCraw. The officer drove right by the shooter.

Authorities identified the shooter as Salvador Ramos, 18. He was shot and killed just before 1 p.m., about 90 minutes after he arrived at the school.
It was also revealed that law enforcement made the "wrong decision" to not engage Ramos sooner.
In fact, a retired Border Patrol special operations agent who was trained for active shooter response told The Epoch Times that in those scenarios they show up to the scene and "go to the sound of gunfire," even knowing "somebody's going to get shot in these scenarios."
On May 26, Escalon told reporters at a press conference that "the on-scene commander at the time believed that it had transitioned from an active shooter to a barricaded subject."
Abbott canceled a planned appearance at the National Rifle Association convention in Houston to hold Friday's press conference instead.
Mimi Nguyen Ly and Charlotte Cuthbertson contributed to this report.