Gov. Cuomo Urges Credit Agencies to Assist Sandy Victims
Says credit scores should not be docked due to missed payments following the storm
April 26, 2013 9:34 am Last Updated: April 26, 2013 9:34 am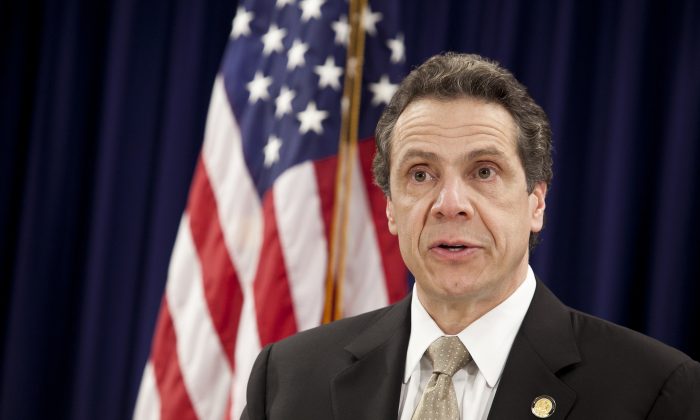 NEW YORK—Victims of Hurricane Sandy whose credit score took a hit following the storm may soon get relief if Gov. Andrew Cuomo has his way.
The Cuomo administration announced on Wednesday it will be leaning on the credit scoring and reporting bureaus who have docked New Yorkers credit scores in hopes of having the blemishes removed from the records.
Mortgage and credit card payments were missed by some homeowners following the storm, leaving negative marks on credit scores.
"Credit scores are supposed to predict future payment behavior, said Ben Lawsky, Superintendent of Financial Services (DFS). "Short term blips due to a storm do not predict how consumers will pay their bills going forward."
Lawsky, under Gov. Cuomo's direction, demanded the credit bureaus and FICO, a company that develops credit scores, take immediate steps to ensure victims of Hurricane Sandy do not have their credit scores lowered for reasons beyond their control, including resetting credit scores that were improperly lowered. 
Lawskey said a meeting had been requested with senior executives of the credit bureaus and FICO with DFS immediately to resolve the issues.
"FICO deeply sympathizes with the victims of Hurricane Sandy. We would be happy to discuss with State Superintendent Lawsky, lenders, and consumer reporting agencies how best to address the continuing financial challenges faced by victims of that disaster," Anthony Sprauve, director of public relations at FICO said in an emailed statement. 
Following Hurricane Katrina in 2005, credit bureaus issued a special disaster code to help deal with natural disasters, according to a statement issued by CDIA, an international trade association representing consumer data companies.
CDIA reports loans that go into forbearance, giving the homeowner a grace period while their home is being repaired and loan payments are suspended. Reporting to the credit bureau in this way preserves  credit scores.
The statement said a notification went out to 8,000 credit card issuers, lenders, American Bankers Association members, and others that furnish data to nationwide credit bureaus immediately after Hurricane Sandy on November 1, 2012. The notice was again issued on January 18, 2013.
Gov. Cuomo recommended victims of Hurricane Sandy check their credit scores, even if they feel they are in good standing with their banks and credit card companies.
"As in most things, you are your own first line of defense," Gov. Cuomo said. "You should check the score. It is free on the DFS website."
Victims of Hurricane Sandy who think their credit score has been unfairly impacted are urged to contact DFS at 1-800-339-1759.